Bert Kreischer: Fully Loaded Comedy Festival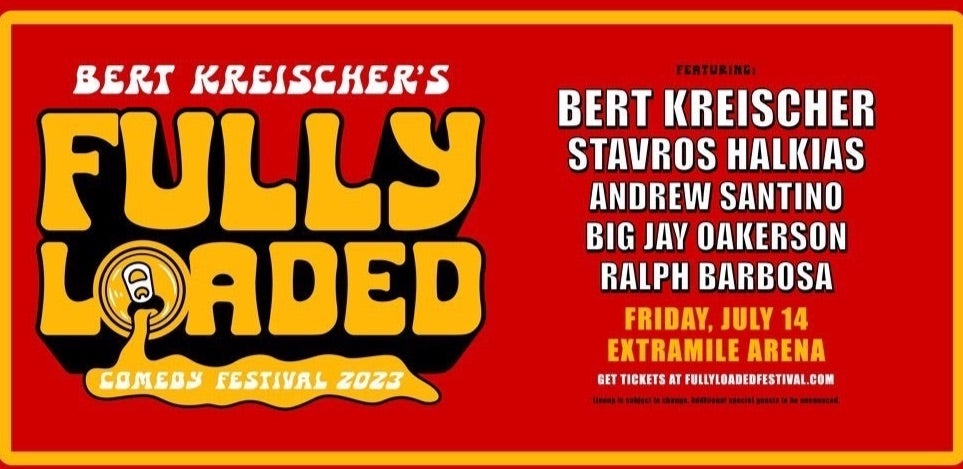 share
Event Information
COMEDIAN BERT KREISCHER ANNOUNCES SECOND ANNUAL FULLY LOADED COMEDY FESTIVAL 2023
Presale begins Wednesday, March 8 at 9am MST
Back by popular demand, Bert "The Machine" Kreischer announced today he will be starting the party back up this summer with his second annual Fully Loaded Comedy Festival on June 14th at sixteen of the most iconic ballparks and arenas across the country. The biggest comedy event of the year with a "Fully Loaded" line-up that includes Bert Kreischer, Stavros Halkias, Andrew Santino, Big Jay Oakerson, Ralph Barbosa landing in Boise. Promoted by Outback Presents, Presale begins Wednesday, March 8th at 7am PT/10am ET and will go on-sale to the public on Friday, March 10th at 10am MT. For more dates and info go to: www.fullyloadedfestival.com. Lineup varies by market and is subject to change. Additional special guests to be announced.
Regarding the upcoming festival, Kreischer said, "Fully Loaded is the best ticket you can buy in entertainment this summer - Indoors, outdoors, baseball stadiums, arenas, and The Gorge. The Fully Loaded lineups are top to bottom the best talent to have ever graced stand-up stages. An absolute no-brainer for any comedy fan."
The concept for the Fully Loaded Comedy Festival was conceived during Bert's 2020 Hot Summer Nights Tour while performing at drive-in venued during the pandemic. He fell in love with the unconventional aspect of outdoor comedy shows, which sparked the idea to create a top tier showcase that had never been done before. Having fond memories of the original Lollapalooza, Bert founded his own comedy version that would encompass everything he loves: comedy, the outdoors, good times, and drinking with friends to give fans an experience they will be talking about for years to come.
This year the festival will partner with the charity Comedy Gives Back. They are an organization founded as a safety net for comics by providing them with financial crisis relief, mental health support and more to those that need help.
Kreischer's career has evolved from earning Rolling Stone's 1997 "Number One Partier in the Nation," to one of the top grossing stand-up comics in the business. In 2022, Pollstar listed Bert as #4 in the"Top 10 Highest Grossing Tours", performing to sold-out arenas around the globe. He is currently on his 2023 Tops Off World Tour.
As one of the best storytellers of his generation, Kreischer seamlessly and sincerely shares anecdotes about his family and fatherhood while showing his ability to prove "that there's a way to take his [party-boy] antics into middle-age," (Forbes).
On March 14th, he will release his highly anticipated 5th stand-up special, Razzle Dazzle on Netflix. Shameless — and shirtless — as ever, Bert spills on bodily emissions, being bullied by his kids and the explosive end to his family's escape room outing. His stand-up specials Secret Time, The Machine, and Hey Big Boy are currently streaming on Netflix.
As if that wasn't enough, Kreischer tops off this summer as the star in the Legendary/ Sony picture film, The Machine, exclusively in theatres across the country May 26th. Set 23 years after the study abroad experience he chronicled in his 2016 Showtime stand-up special, the movie follows Kreischer as the Russian mafia finally catches up with him after all these years and seeks retribution for the crimes that he committed in their country as a rowdy, drunken college student.
In additional to a successful stand-up career, Kreischer has made himself a household name in the podcast world with several top comedy podcasts including Bertcast and Two Bears One Cave that he co-hosts with Tom Segura. He also hosts the popular YouTube cooking show, Something's Burning.
Read More