Boise State Men's Basketball vs. New Mexico
Come Cheer on The Broncos in the 2019-2020 Season!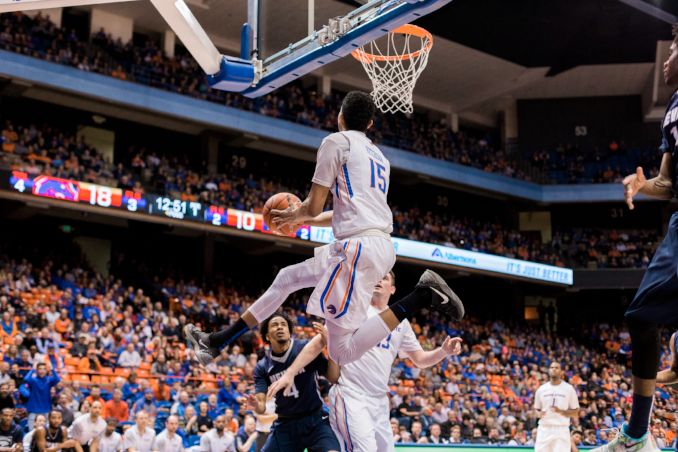 share
Event Information
BOISE STATE MEN'S BASKETBALL IS BACK!
Buy Tickets | 2018 - 2019 Schedule
Season Tickets

BOISE, Idaho – The 2019-20 schedule for the Boise State men's basketball team, including a 15-game regular-season home slate at the newly-minted ExtraMile Arena, was released Tuesday.

"This is set up to be one of the highest-level schedules we've had here at Boise State," head coach Leon Rice said. "We're going to have an exciting team to watch, coupled with quality opponents. I can't wait for basketball season."

NONCONFERENCE HOME GAMES
The home schedule is highlighted by previously-announced, back-to-back games against UC Irvine (Nov. 15) and BYU (Nov. 20). The Anteaters won 31 games last season and reached the second round of the NCAA Tournament, and BYU will be making its first trip to Boise since 2007.

Also coming to Boise for nonconference games will be UNC Wilmington (Nov. 29), Alabama State (Dec. 14) and Cal State Northridge (Dec. 28). The Broncos will open their regular-season schedule with a home tilt against Life Pacific (Nov. 5), preceded by an exhibition game against West Coast Baptist (Oct. 31).

NONCONFERENCE ROAD GAMES
The Broncos' first road test of the season will come at Oregon (Nov. 9), the third-consecutive season Boise State will make a trip to Eugene. The Broncos lost last season's match-up, but were victorious two seasons ago, when Lexus Williams hit a half-court 3-pointer at the buzzer.

Boise State is also scheduled to play at Pacific (Nov. 23) and at Tulsa (Dec. 11), before traveling to Honolulu for the Diamond Head Classic. The Broncos are slated to open with Georgia Tech (Dec. 22) on the islands, and will play either Houston or Portland in their second game of the tournament. A third game is scheduled for Christmas Day, time and opponent to be determined.

CONFERENCE SCHEDULE
The Broncos' Mountain West slate was set earlier this summer, and can be found HERE. Dates for league games are still subject to change, and have the possibility of moving from Wednesday to Tuesday, and Saturday to Sunday.

The MW Tournament is scheduled for March 4-7 at the Thomas & Mack Center in Las Vegas. The tournament includes all 11 teams.

Season tickets are available at BroncoSports.com/tickets, or by calling the Athletic Ticket Office at (208) 426-4737.
Read More
Related Links
Sun, February 23, 2020
2:00 PM
Single-game tickets are available online in addition to the full season ticket. Tickets may not be available day-of the game, so grab yours in advance online!