Boise State Men's Basketball vs. Utah State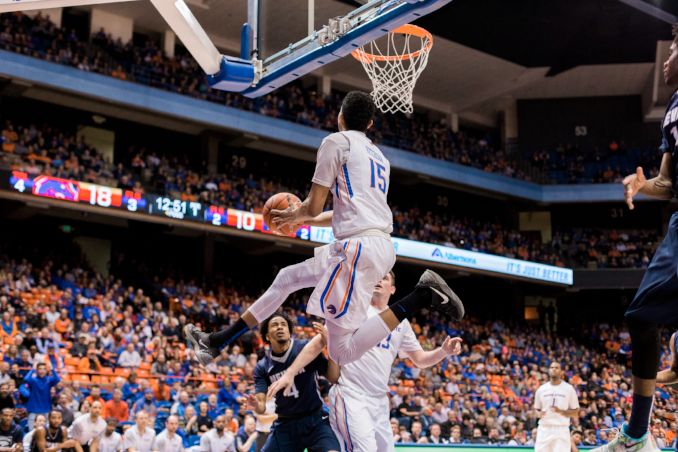 share
Event Information
Up to Date News Schedule Roster
Boise State men's basketball will begin its 18-game Mountain West Conference slate Dec. 29, hosting San José State, subject to approval from state, county and local officials. Exact game dates are subject to significant change to accommodate television selections.
Boise State plays three of its first four conference games at home. The Broncos went 8-1 in league games at ExtraMile Arena last year. Boise State closes the regular season with back-to-back road games at Utah State and Colorado State, ahead of the 2021 Mountain West Championship, March 10-13, at the Thomas & Mack Center in Las Vegas.
Each of the 11 Mountain West schools plays eight home-and-home series, along with one additional home game and one additional road game. The Broncos will not host New Mexico and will not travel to Air Force.
Boise State is coming off its eighth 20-win campaign in 10 seasons under head coach Leon Rice. The Broncos went 11-7 in Mountain West games last year, the fifth time they have recorded at least 11 league wins in the last six seasons. In the nine years Boise State has been a member of the Mountain West, San Diego State is the only other league school to record five seasons with at least 11 conference wins.
The NCAA previously announced the first date of competition will be Nov. 25, and teams are permitted to play up to 27 games, if participating in a multi-team event. The Broncos are slated to participate in a multi-team event (Orlando Invitational), meaning they can play a maximum of nine nonconference games. Further details about the nonconference portion of Boise State's schedule will be announced in the coming weeks.
The Mountain West and Atlantic 10 Conference previously announced the leagues' challenge series has been postponed, due to the season's delayed start date. The challenge will now begin in December 2020. Boise State was originally scheduled to play at Rhode Island (Dec. 5) as part of the challenge.
Read More
Sat, January 23, 2021
TBA