Boise State Women's Basketball vs. UNLV
Cheer On Your Broncos This 2019-2020 Season!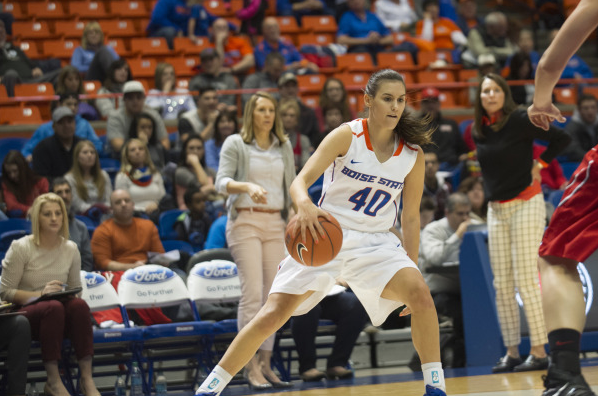 share
Event Information
BOISE STATE WOMEN'S BASKETBALL IS BACK!
Ticket Information | 2018 - 2019 Schedule
BOISE, Idaho – The 2019-20 Bronco Sports Pass, granting Boise State fans general-admission access to all non-football, non-men's basketball home events, is now available for purchase for $100.

The pass can be purchased HERE on BroncoSports.com, by visiting the Boise State Ticket Office, or by calling 208-426-4737.

BOISE, Idaho – At least six home games, as well as visits to 2019 Elite Eight participant Louisville and to TCU for the 2019 Maggie Dixon Classic, highlight Boise State women's basketball's 2019-20 non-conference schedule, which was announced Tuesday.

The Broncos are coming off of a 2018-19 campaign in which they won a school-record 28 games and made the program's third-straight NCAA Tournament appearance. Boise State, which went 16-2 in conference play last season under the guidance of 2018-19 Mountain West Coach of the Year Gordy Presnell, has claimed consecutive Mountain West regular-season titles (2018-19) and three-straight conference tournament titles (2017-19) while reaching the NCAA Tournament in four of the past five seasons (2015, 2017-19).

The 2019-20 non-conference schedule is shaping up as one of the most competitive in program history. The Broncos will face a minimum of three NCAA Tournament teams from a season ago, beginning with Nov. 8's Preseason WNIT first-round game in Boise against Portland State. Louisville, which reached the Albany Regional Final last season, will host the Broncos Nov. 24, and BYU, which made the second round of last year's tournament, will come to Boise Dec. 11 in the first meeting between the schools since Nov. 27, 2002.

Depending on Boise State's performance in the Preseason WNIT, the Broncos could face additional tournament teams from a season ago, with a potential second-round Preseason WNIT matchup with Sweet 16 participant Missouri State on tap.

Boise State will tune up for the upcoming season with a Nov. 2 exhibition against Concordia (Ore.) before officially opening the campaign Nov. 5 at home against Lewis-Clark State.

The Broncos will begin Preseason WNIT action with the Nov. 8 home contest against Portland State, with at least two more games in the event to take place between Nov. 10-17.

Washington State will come to town for a matchup Nov. 20 before the Broncos head out to the Bluegrass State to face Louisville for the third-straight season on Nov. 24. Boise State wraps up a three-games-in-seven-days stretch back at home Nov. 26, hosting Utah Valley.

Boise State will head to Texas at the end of November to face TCU at the 2019 Maggie Dixon Classic on either Nov. 30 or Dec. 1. The official game date will be set at a later time.

After two Mountain West contests against New Mexico (Dec. 4) and at Colorado State (Dec. 7), the Broncos will resume non-conference action with BYU coming to town Dec. 11. While that contest is the first between the schools in 17 years, it will also be the Cougars' first visit to Boise since Nov. 16, 2001.

The Broncos will close the non-conference slate with a road trip to Eastern Washington (Dec. 15) and a home contest against Western Oregon (Dec. 22) before picking back up with Mountain West play Jan. 1 at Wyoming.

Boise State went 14-1 at home last season, with the only home blemish a 74-55 loss to then-No. 5 Louisville on Nov. 19, 2018.

The Broncos will return three of their top four scorers from a season ago, highlighted by All-Mountain West selection and Mountain West Tournament MVP Braydey Hodgins. Hodgins, who will enter her senior season in 2019-20, led the Broncos in scoring (13.2 ppg), 3-pointers made (70), and free throws made (96) last season, with fellow rising senior Riley Lupfer also being named to the All-Mountain West Team after averaging 11.1 points per game with 67 made 3-pointers and a team-high 87.2 free-throw percentage.

Also returning for their final seasons are redshirt seniors Jayde Christopher and A'Shanti Coleman. Christopher, in her debut season with the Broncos in 2018-19, passed out 182 assists, the second-highest single-season figure in program history, while scoring 6.3 points per game. Coleman shot 51.5 percent from the field while averaging 9.7 points and 4.3 rebounds per game with team bests in steals (54) and blocks (28).

Boise State will also be bolstered by the debut of redshirt junior center Mallory McGwire. After sitting out the 2018-19 campaign due to NCAA transfer rules, the 6-foot-5 McGwire, who averaged 6.1 points and 3.8 rebounds and shot 52.2 percent over 75 games (43 starts) at Oregon from 2016-18, will team with returning sophomore 6-foot-3 center Rachel Bowers, who averaged 6.2 points and 3.4 rebounds while shooting 55.4 percent in 2018-19.
Read More
Related Links
Mon, February 24, 2020
7:00 PM
Admission Included with Bronco Sports Pass!
Tickets available on-site, and included with those that have the Bronco Sports Pass. For single-game tickets, visit the link above to purchase.