Boise State Women's Basketball vs. San Diego State Game 1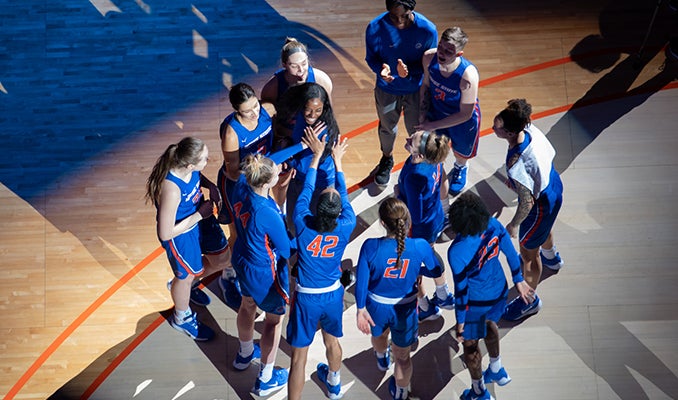 share
Event Information
Broncos to Host Fans at ExtraMile Arena
Fans will have to clear a temperature and health screening prior to entry. Masks will be required for all attendees at all times, and portable hand sanitization stands will be located at each entry point and throughout ExtraMile Arena. No bags will be allowed. Concessions will not be permitted at this time. Boise State officials will test staff and student-athletes ahead of the games, as has been the case all season.
Boise State will host up to 900 fans at ExtraMile Arena for this week's women's basketball games against San Diego State, director of athletics Jeramiah Dickey announced Tuesday 2/23/21.
The Broncos and Aztecs are slated to square off Friday (Feb. 26; 2 p.m.) and Sunday (Feb. 28; 1 p.m.).
With declining COVID-19 case numbers in the Treasure Valley and a rigorous, multi-layered, health and safety plan, Bronco Athletics hosted a limited number of physically-distanced fans at ExtraMile Arena for last week's men's basketball games against Utah State.
"The health and safety of our student-athletes, staff and fans is and will continue to be the top priority for our athletics department," Dickey said. "We showed this past week that we can provide a safe environment when we hosted fans for men's basketball, and we are looking forward to doing the same this week for women's basketball."
The plan, which has been reviewed by Central District Health, will mirror what was in place last week.
Seating will be preestablished, and patrons are solely permitted to sit in the seats in which they have been assigned to assure attendees are adhering to proper physical distancing measures. There will be no seating at the floor level of ExtraMile Arena, as Boise State adheres to bubble requirements that distance fans from competitors set forth by both the Mountain West and NCAA.
Tickets range from $5-10 for women's basketball and are $6 for gymnastics, and can be purchased online at BroncoSports.com/tickets or by calling the Athletic Ticket Office at (208) 426-4737. Tickets will go on sale to members of the Bronco Athletic Association today, and to the general public on Wednesday 2/24/21.
Additionally, Boise State will set aside 200 tickets for students, which will be available on a first-come, first-served basis the day of the event. Doors open for each contest an hour before start time, and will be available at the Lobby 1 entrance to ExtraMile Arena.
Read More