Boise State Women's Basketball vs. Wyoming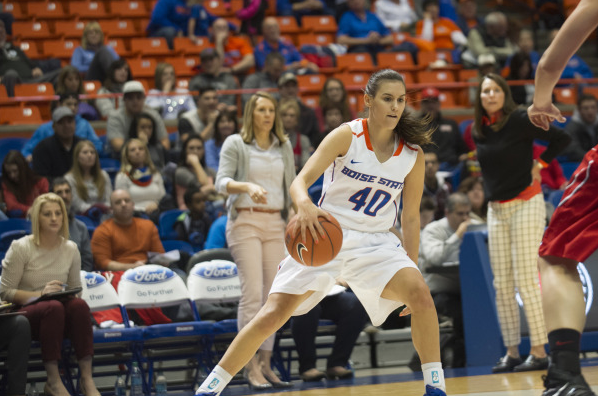 share
Event Information
Cheer On Your Broncos This 2020-2021 Season!
Up to Date News Schedule Roster
Subject to approval from state, county, and local officials, the 2020-21 Mountain West women's basketball schedule will begin Thursday, Dec. 31, 2020, and conclude March 2, 2021. Conference play will determine the seeding for the 2021 Mountain West Women's Basketball Championship, set for March 7-10 at the Thomas & Mack Center in Las Vegas.
Four-time defending champion Boise State will open Mountain West play New Year's Eve against Fresno State, as the conference announced its 2020-21.
Boise State, which went 24-9 overall and 13-5 in Mountain West play in 2019-20, capturing its fourth-straight conference tournament title, opens the new campaign with three-straight road games, and overall will play seven of its first 12 contests away from home.
Following the opener at Fresno State, the Broncos will continue on to San Jose State for a Jan. 2 meeting. The three-game road run will conclude Jan. 6 at Wyoming.
The Broncos host New Mexico in its Mountain West home opener Jan. 9 before heading back out on the road to face Air Force Jan. 13. The return matches against Fresno State and San Jose State will then take place at ExtraMile Arena Jan. 16 and Jan. 18, respectively, before Boise State's first of two byes, Jan. 21.
Action resumes for the Broncos Jan. 23 in Reno, as Boise State faces Nevada, followed by a two-game homestand against Air Force (Jan. 27) and Colorado State (Jan. 30). That is followed by a two-game road trip to Utah State (Feb. 3) and UNLV (Feb. 6) before the Broncos' second and final bye of the season, on the Feb. 11 gameday.
From there, the Broncos will play four of its final six at ExtraMile Arena, beginning with home games Feb. 13 against Nevada and Feb. 17 against Wyoming. A trip to New Mexico for a Feb. 20 contest is followed by a Feb. 24 home date with San Diego State before the road finale at Colorado State (Feb. 27).
Boise State closes its regular season with Senior Day, March 2, against Utah State.
Read More
Wed, February 17, 2021
TBA