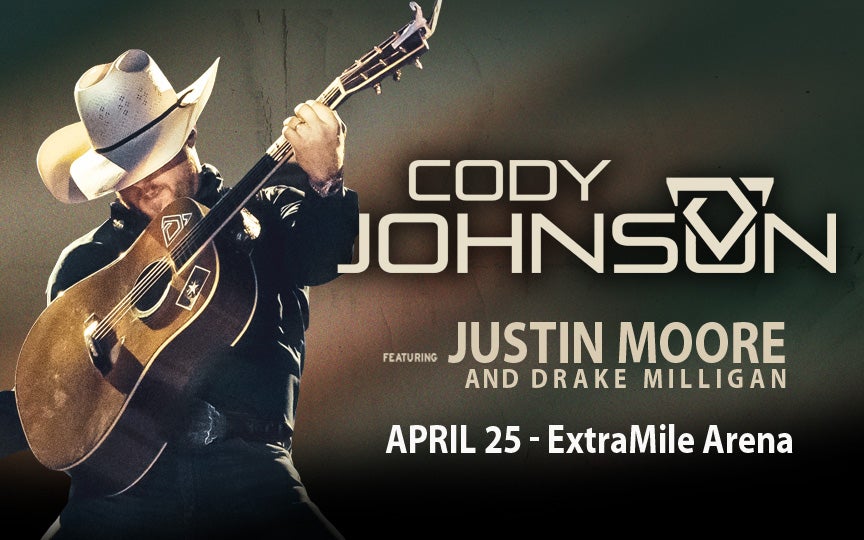 ExtraMile Arena
Cody Johnson | The Leather Tour
Featuring Justin Moore and Drake Milligan
Date

Apr

25

, 2024

Event Starts

7:30 PM

Venue

ExtraMile Arena

Doors Open

6:30 PM

On Sale

On Sale Now
Event Details
CODY JOHNSON
The Leather Tour
Featuring Justin Moore and Drake Milligan
---
Platinum recording artist and CMA Awards Male Vocalist of the Year nominee Cody Johnson has added 15 more concerts to "The Leather Tour" (plus additional festival dates) to launch on January 19, 2024 in Sacramento at the Golden 1 Center. The 2024 schedule includes Cody's first headline performance in Nashville's Bridgestone Arena on February 2, 2024.
Special guests on the tour next year include Justin Moore, Chris Janson, Dillon Carmichael, and Drake Milligan. Support guests vary by market.

Cody recently revealed the track listing for his upcoming album Leather, set for release on November 3. The 12-song album features two guest acts, Brooks & Dunn on "Long Live Country Music" and Jelly Roll on "Whiskey Bent." Leather was produced by Trent Willmon and is available for pre-order now!
Cody spoke exclusively to Billboard about the new music and being 'authentic.' "People appreciate authenticity, whether it's me being a cowboy and singing something that reminds people of '90s country stuff they grew up on, or someone like the Zach Bryans and guys that are more like what probably is considered Americana, or Jelly Roll, who is completely the opposite of me, musically," Johnson says. "But authenticity is the common thread." Writer Jessica Nicholson asked how the album's cover art came to be, "I was working at the ranch that day, so I told my photographer Chris Douglas to come over," Johnson tells Billboard. "That's blood and hair in that picture from castrating bulls and giving them shots that day. We didn't stage any of that. We got started at 5:00 a.m. and worked all day and he ended up getting some incredible photos while we were working." Read the full Billboard story here.
The New York Times touted Leather's first radio single "The Painter" comes from "one of mainstream country's sturdiest performers, extends his streak of music that's deeply earnest, unflashily produced, and a blend of emotionally stoic and trembling. It's the lead single from 'Leather,' his third studio album on a major label after a long and robust independent career." "The Painter" single launched its first week with biggest radio add date of Cody's career with 73 stations jumping to put the song on air.
Taste of Country recently said Cody has a finesse for picking songs referencing "The Painter." [He's] "proving to be a skilled marksman, capable of hitting a small cross-section that finds all genders and age groups overlapping." The new single became the most-added song in the nation in its debut week on the charts, launching with the biggest add date of his career with 73 stations jumping to put the song on air. Media has touted the song, 'Beautifully country. Kinda poetic, kinda romantic, kinda stirring, kinda cool. He remains a supreme vocal stylist, and the gently thumping bass undertow gives this all the juice it needs. An instant favorite,' shared Bob Oermann, in Music Row Magazine, Nashville's highly respected authority on country music. "The Painter" is the follow up to Cody's career-making, double platinum-selling and Grammy winning ("Country Song of The Year") two-week #1 single "'Til You Can't" and the Top 5 smash "Human."
Leather Track Listing:
1- "Work Boots" (Jason Afable, Brett Beavers, Canaan Smith)
2- "Double Down" (Jeff Hyde, Adam James, Clint Daniels)
3- "Watching My Old Flame" (Kat Higgins, Wynn Varble, Clint Daniels)
4- "That's Texas" (Andy Sheridan, Erik Dylan, Wyatt McCubbin)
5- "Dirt Cheap" (Josh Phillips)
6- "Jesus Loves You" (Mark Holman, Chase McGill, Michael Hardy)
7- "Whiskey Bent" (feat. Jelly Roll) (Adam James, Mikey Reaves, Rocky Block)
8- "Leather" (Ian Munsick, Rivers Rutherford, Jeremy Spillman)
9- "People In The Back" (Devin Dawson, Austin Taylor Smith, Mark Trussell)
10- "Long Live Country Music" (feat. Brooks & Dunn) (Phil O'Donnell, Wade Kirby, Trent Willmon)
11- "The Painter" (Kat Higgins, Benjy Davis, Ryan Larkins)
12- "Make Me A Mop" (Jessi Alexander, Connie Harrington, Alan Shamblin)
Additional Ticket Information
Known for his explosive live shows and electrifying stage presence, COJO Music / Warner Music Nashville Platinum recording artist Cody Johnson has established a following of passionately loyal fans who regularly sell out shows across the country. MusicRow predicted Cody "just might be the future of real country music" as his career has skyrocketed with three celebrated albums, Human The Double Album, A Cody Johnson Christmas and Cody Johnson & The Rockin' CJB Live, and an award-winning feature-length documentary "Dear Rodeo: The Cody Johnson Story." He has 17 career RIAA certifications, a Pandora Billionaire Award and over 5 billion global streams.
His numerous industry honors include recognition as a CMT Artist of The Year, three CMT Music Awards wins, two CMA Awards and being named "Best New Country Artist" at the iHeart Music Awards. His television appearances have entertained fans on the Today Show, the Kelly Clarkson Show and the Tonight Show Starring Jimmy Fallon in addition to outstanding live tv performances at the iHeart Music Awards, the ACM Awards, CMA Awards, CMT Giants honoring Vince Gill, and the CMT Artist of the Year Special. Cody's stellar 2023 CMT Music Awards performances included hit "Human" and featured him as a lead vocalist on a show-stopping all-star tribute to Lynyrd Skynyrd featuring a stacked lineup of music royalty including Cody, Billy Gibbons, Chuck Leavell, Paul Rodgers, Slash & Warren Haynes, alongside LeAnn Rimes and Wynonna Judd. On the CMA Fest 2023 special Cody and Reba McEntire delivered a knock-out rendition of "Whoever's in New England."
Please visit our Know Before You Go Page for more information about ExtraMile Arena Procedures, Policies, and Good-to-Knows.