FLUME
AT THE IDAHO BOTANICAL GARDEN
x
ExtraMile Arena is proud to partner with the Idaho Botanical Garden, CMoore Concerts and Knitting Factory in support of the Outlaw Field Summer Concert Series at the Idaho Botanical Garden.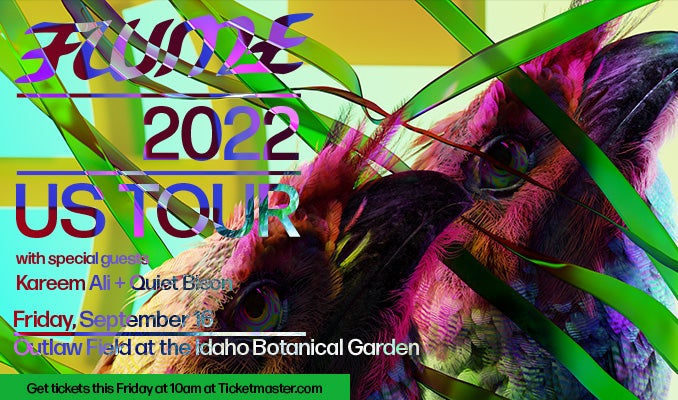 share
Event Information
Tickets on sale Friday, April 16th 2022.

SHOW DATE: Friday, September 16th, 2022
SHOW TIME: 7:00 PM Doors at 6:00 PM
VENUE: Outlaw Field at Idaho Botanical Garden

General Admission – Bring your own low-back chairs or blankets to place on the field!
If tickets are still available, they will be sold at the gate the night of the show - cash only.
SUITES / VIP SEATING:
The Idaho Botanical Garden offers a limited number of reserved premium locations to enjoy the Outlaw Field Summer Concert Series. Your group will not have to worry about early arrival to secure some of the best seats in the Garden. Members can purchase Garden Suite seating during the member presale and anyone can purchase any remaining Suite seats once the show goes on sale to the public.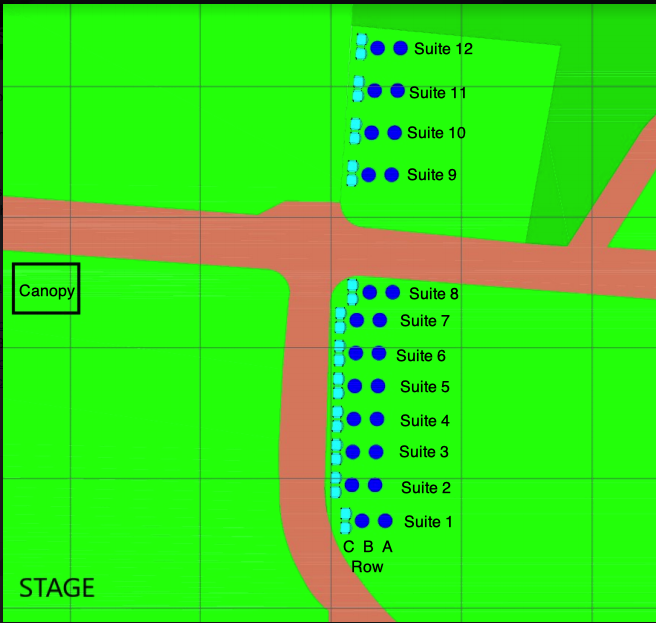 Garden Suite Adirondack Seating
• Reserved seating in Adirondack chairs
• Table beverage service provided
• Sold in pairs
• Access to private restrooms
• Member line access
Garden Suite Picnic Table Seating
• Reserved seating for 4 at tables
• Partial sunshade
• Table beverage service provided
• Access to private restrooms
• Member line access
Garden Suite High Top Table Seating
• Reserved seating for 4 at high top tables
• Partial sunshade
• Table beverage service provided
• Access to private restrooms
• Member line access
Garden Suite Canopy Seating
• Reserved seating under 10×10 canopy for 12
• Canopy is set close for quality stage viewing
• Private table beverage service
• Comfortable garden furniture features both tall and small chairs with tables
• Access to private restrooms
• Member line access
Garden Suite Area Seating can only be purchased through the ExtraMile Arena Office
Office Hours Monday to Friday 10am – 5pm. Only ExtraMile Arena Arena Box Office staff can sell Garden Suite tickets at the Arena Box Office or by phone at (208) 426-1766. Ticketmaster cannot sell Garden Suite tickets and Suite tickets are not available for purchase online. Garden Suite tables and Suite Canopy reservations need to be made in advance and cannot be purchased day-of concert or at the door.
Outlaw Field Garden Suite Seating Ticket Refund Policy
If the concert is canceled and not rescheduled, you will be issued a full refund. If the concert is rescheduled, your Garden Suite Table or Suite Canopy purchase will be transferred to the rescheduled date.
---
EVENT INFORMATION
Idaho Botanical Garden
2355 Old Penitentiary Road
Boise, ID 83712
Directions to Idaho Botanical Garden (Google Maps)
THINGS TO KEEP IN MIND
- This is a General Admission concert in a grass, park-like setting. No chairs will be provided by the venue. Please review chair guidelines below.
- The Idaho Botanical Garden is not open to the general public on Outlaw Field Concert Days.
- Soft-sided Coolers larger than 30 quarts, exceeding 18"L x14"w x 17"d, are strictly prohibited. ONLY soft-sided coolers will be permitted.
TICKET PICK UP, WILL CALL & E-TICKETS
Tickets/Will Call
Event Will Call includes tickets purchased from the ExtraMile Arena Box Office, and online through ticketmaster.com and will be available on-site as of 3:00pm day-of-show. To pick up any will call tickets, photo ID from the original purchaser is required.
If you selected the Ticketfast e-ticket option (print-at-home) as the method of delivery for your tickets, please make sure to either bring a printed copy of your tickets, or be familiar with how to access your electronic tickets via your Ticketmaster account or the Ticketmaster app on your mobile phone. All tickets will be scanned at the gates.
PARKING / TRANSPORTATION
PARKING
Parking is free, but limited. Parking staff will direct you to available spots. We encourage you to bike, car pool, or take public transportation.
* SHUTTLE INFO BELOW *
ACCESSIBLE PARKING
Parking Staff will direct concertgoers with vehicles displaying an ADA license plate or placard to the ADA parking area (limited availability) by the Main Entrance. Guests with accessible needs can also be dropped off close to the Outlaw Field entrance near the Idaho Botanical Garden Administration building.
If you need to pick up someone after the concert, you will need to arrive back at the main entry no later than 9:30pm; after that time, both sides of Old Penitentiary Road will be converted to exiting lanes of traffic.
SHUTTLE
Parking is limited. Guests are encouraged to use the free shuttle service from Downtown Boise. Shuttles will pick up guests on Main Street between 8th and 9th in the bus zone starting at 5:30pm until 7:30pm. The first shuttle will return to pick up guests after the show and will be staged at the Accessibility drop off/pick up area at 9:30pm (outside the main gate). After that time, the shuttle will pick up from the main pick up/drop off lot adjacent to Warm Springs Ave.
BIKE
We encourage guests to go green and ride their bikes to the event! A bike corral will be available on-site. Each person that rides their bike to an Outlaw Field Concert will receive a FREE event voucher for a Idaho Botanical Garden Event. There will be staff distributing these at the bike corral.
Please note: We ask all cyclists using the pedestrian lane to dismount from bikes while on Old Penitentiary Road, for the safety of pedestrians.
OUTLAW FIELD SURVIVAL GUIDE:
CHAIR & BLANKET RULES
Concerts are presented on a grass park like setting. All guests seated in the GA lawn section are welcome bring either a blanket to sit on, or a low back chair.
* 8" max from ground to front of seat bottom
* 30" max to top of chair back in highest position
FOOD & BEVERAGE
*ONLY SOFT-SIDED COOLERS WILL BE ALLOWED IN THE GATES*
Food and beverages will be available for sale. Factory sealed water is allowed and/or an empty water bottle that can be refilled at the IBG water station. Patrons are welcome to bring in coolers and/or picnics with food and sealed non-alcoholic beverages no larger than 30 quarts nor exceeding 18"L x14"w x 17"d. No alcohol, knives, or glass containers may be brought inside. On-site cooking or barbecues are not allowed. Please pack out whatever you bring into the venue.
- Everyone of age who plans on having an alcoholic beverage must bring a photo ID to receive a wristband. Wristbands will be distributed at all alcohol stands.
- Alcoholic beverages are available for purchase with cash only
- Alcohol service typically ends a half hour before the end of show. The Idaho Botanical Garden encourages safe, legal and responsible consumption of alcohol.

* There will be 2 ATMs on site directly inside the main gate *
RECYCLING
The Idaho Botanical Garden continually strives to improve their commitment to the protection of the environment and enhancing the patron experience. There will be trash and recycling bins throughout the venue.
Though factory sealed water bottles are allowed, we strongly encourage patrons to bring reusable bottles with them that can be refilled at our water station.
SECURITY
The Idaho Botanical Garden is committed to maintaining a safe and secure environment for our guests, employees and volunteers.
To help facilitate this, there will be increased security measures such as handheld magnetometers (metal detectors) upon entry. All bags, coolers, etc. are subject to search.
The following items are prohibited: animals or pets (except ADA), weapons of any kind, laser pointers, fireworks, umbrellas, chairs higher than 8" from the ground, glass containers, chains and spiked jewelry.
There will be an EXPRESS LANE for patrons without coolers and bags at each entry point.
PHOTO POLICY
Small personal cameras will be permitted. No professional cameras with detachable lenses, video or audio recorders will be allowed in the venue.
Read More
Fri, September 16, 2022
7:00 PM
General Admission
Tickets available online via Ticketmaster.com, over the phone (208) 426-1766 or in-person at the ExtraMile Arena Box Office.