ATHLETA PRESENTS GOLD OVER AMERICA TOUR
SIMONE BILES
x
A Note on the Safety Protocols in Place for this Event:
Masks or face coverings are required to be worn by all patrons while in the venue. COVID-19 related health protocols may be in effect at the time of performance, including, without limitation, testing, confirmation of prior travel to restricted areas and/or confirmation of no known symptoms of and exposure to COVID-19. We reserve the right to unilaterally make changes to health protocols according to updated public health guidance and applicable law. Future updates will be provided to ticket holders prior to the performance. Any ticket holder who does not comply with any COVID-19 related health protocol may be required to leave the venue, and his/her/their ticket will not be refunded. Guests with accessibility questions, or who require additional assistance related to the venue's COVID-19 policies may email [email protected] or call (208) 426-1766. Please note: This event is being planned at full capacity, subject to applicable law and governmental approval.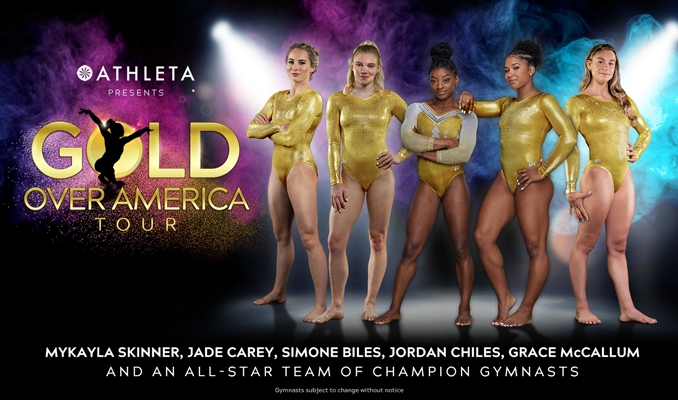 share
Event Information
Simone! Jade! MyKayla! Jordan! Grace!
Simone Biles and Teammates Headline Athleta Presents Gold Over America Tour Landing in Boise on Friday, October 1, 2021.
Fans Favorites Laurie Hernandez, Katelyn Ohashi, Morgan Hurd and Chellsie Memmel will be on Tour in One of the Greatest Line Up of Gymnasts Ever
Fans Can Dance in the Show Finale with all the Gymnasts.
Boise, ID (August 19, 2021) – Straight from the world stage, the best gymnasts in the U.S. featuring the most decorated gymnast of all-time, Simone Biles, will headline the Athleta Presents Gold Over America Tour coming to ExtraMile Arena on Friday, October 1, 2021. Biles, who medaled with silver for team competition and bronze for the balance beam, will be joined by her teammates Jade Carey who won gold in floor exercise, Jordan Chiles and Grace McCallum who won silver for team competition and MyKayla Skinner who won silver in vault.
Tickets are on-sale now at www.ticketmaster.com. By purchasing the Gold Squad Premium Upgrade, fans will have an opportunity to dance in the show finale with all the gymnasts.
Produced by MagicSpace Entertainment and promoted by AEG Presents/Concerts West, the show brings all the excitement of a gymnastics competition to hometown arenas nightly as each gymnast performs some of their most famous routines mixed with career highlights, personal videos and social media interactions. The show is a high-energy, gymnastics-meets-pop-concert spectacular that will visit 35 North American cities this fall.
Previously announced participants include 2016 gold and silver medalist in Rio and Dancing with the Stars champion Laurie Hernandez, All-American, NCAA National Champion and viral video sensation Katelyn Ohashi, winner of three gold medals in 2019 and 2020 at the Tokyo World Cup Morgan Hurd, elite gymnast Shilese Jones, former USA Gymnastics Women's Athlete of the Year Chellsie Memmel, 2021 French Olympian Melanie De Jesus dos Santos and 2018 NCAA National Champion from UCLA where she achieved 10 perfect 10's Peng-Peng Lee.
"The Athleta Presents Gold Over America Tour will match athleticism and entertainment," said Biles. "The show embodies the themes of empowerment and togetherness which was on display in Tokyo. Together, all the gymnasts on this tour want to inspire the next generation of women and athletes."
These women are not only athletes at the top-of-their-game, but also the ultimate squad. The show emerges from their personal values of empowerment, friendship, positive body image, mental health awareness, and self-confidence. A crew of gymnastic dancers under eye-popping LED video screens and lights rounds out the experience.
The Athleta Presents Gold Over America Tour kicks off on September 21, 2021, in Tucson with stops along the way in Denver, Los Angeles, Anaheim, Houston, Chicago, Detroit, Columbus, Atlanta, Philadelphia, Newark, and Brooklyn, before concluding in Boston on November 7, 2021.
The creative team includes Director Mark "Swany" Swanhart and Associate Director Louanne Madorma, along with world-renowned gymnastics coach Valorie "Miss Val" Kondos Field, who serves as Supervising Choreographer for the tour. The tour is produced by Lee D. Marshall and executive produced by Mark "Swany" Swanhart, Louanne Madorma, Valorie "Miss Val" Kondos Field, and Guy Phillips.
Follow on Instagram & Facebook @GoldOverAmericaTour, Twitter @GoldOverAmerica and YouTube. #GoldInAllOfUs
Read More