Hillsong UNITED + Chris Tomlin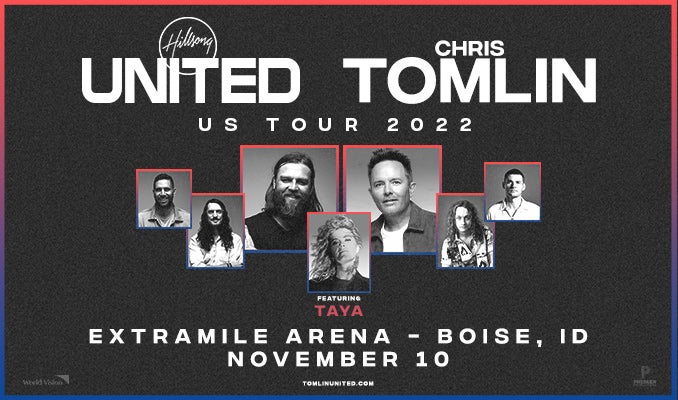 share
Event Information
Ticket On-Sale Begins Thursday, September 1, 2022
Watch highlights from the tour
(August 26, 2022) – On the heels of their highly successful 22-city "Tomlin UNITED Tour" out earlier this year, the multi-platinum selling and multi-award-winning artists Chris Tomlin and UNITED are announcing the addition of a third leg coming this fall. The tour, named by Pollstar as a 'Top 10 Worldwide Tour,' will continue to welcome thousands of worshippers each night as one of the biggest Christian concert events continues with dates beginning November 3. Tickets for the "Tomlin UNITED Tour" will go on sale Thursday, September 1 at TomlinUNITED.com. Patrons can sign up now for the pre-sale at TomlinUNITED.com
"Something powerful happens when we come together, all the streams of the church, to worship in Unity and One voice… it's more than a concert, it's an opportunity for us to join in the eternal praise," shared Chris. "My prayer and belief for these nights with United is that everyone in the building, myself, the attendees, the musicians, the crew, each person working at the venue - everyone - is met by God right where they are in life and has an encounter that reminds us of the hope we all have in Him."
"In light of what our world has collectively been through in the last couple of years and the journey we have personally been through, being able to gather and worship together has been something that has brought much joy and encouragement," shared Jonathon Douglass of UNITED. "That's why we are so looking forward to continuing the journey of this tour to share and experience who God is and how he is present with each and every one of us right now! We look forward with great expectation to these nights with a great faith that God is going to move in our lives and bring joy and encouragement personally to everyone who joins with us!"
The fall leg will visit a dozen major cities across the U.S. including St. Louis, Seattle, Salt Lake City, Indianapolis, Charlotte and more. Music critics claimed the "Tomlin UNITED Tour" was 'more than a concert- it was a worship experience for the performers and audience' and 'many were so overcome by the music they were brought to tears. The outpouring of emotion was awesome to witness.'
With a combined hope that this tour will help reunite the church, Tomlin and UNITED remained focused on launching the tour throughout an 18-month delay due to the COVID-19 pandemic. Premier Productions is the national tour promoter and WorldVision will serve as the tour sponsor.
On September 9, Chris will release his next full-length project, Always. The title track was released to Christian radio this spring and made its live debut on the "Tomlin UNITED Tour" earlier this year. The official live video for "Always" was filmed live from Chris' annual "Good Friday Nashville" concert event and premiered exclusively with Facebook.
UNITED released their new full-length studio album earlier this spring, Are We There Yet?
Read More