JoJo Siwa - RESCHEDULED TO 1.15.22
D.R.E.A.M. THE TOUR
x
A Note on the Safety Protocols in Place for this Event:
Masks or face coverings are required to be worn by all patrons while in the venue. COVID-19 related health protocols may be in effect at the time of performance, including, without limitation, testing, confirmation of prior travel to restricted areas and/or confirmation of no known symptoms of and exposure to COVID-19. We reserve the right to unilaterally make changes to health protocols according to updated public health guidance and applicable law. Future updates will be provided to ticket holders prior to the performance. Any ticket holder who does not comply with any COVID-19 related health protocol may be required to leave the venue, and his/her/their ticket will not be refunded. Guests with accessibility questions, or who require additional assistance related to the venue's COVID-19 policies may email [email protected] or call (208) 426-1766. Please note: This event is being planned at full capacity, subject to applicable law and governmental approval.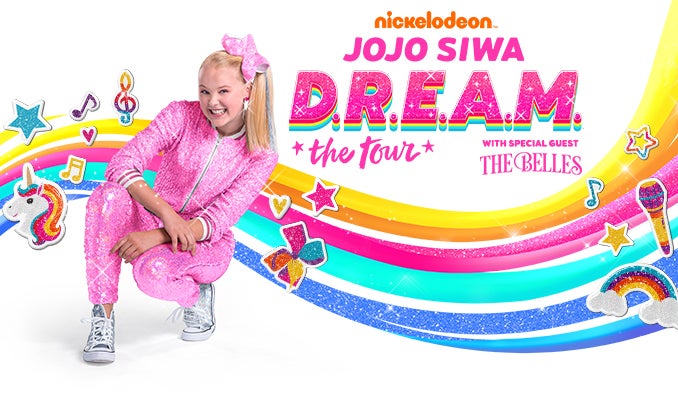 share
Event Information
JoJo Siwa's show originally scheduled for 6.27.21 has been rescheduled to 1.15.22. All tickets purchased for the originally scheduled date are still valid.
Additional information about this rescheduled event: click here.
Information About Rescheduled and Canceled Events
NICKELODEON'S JOJO SIWA D.R.E.A.M. THE TOUR
Nickelodeon's JoJo Siwa D.R.E.A.M. The Tour Produced by AEG Presents
Share it: @Nickelodeon #JoJoDREAMTour
Click HERE to Download Photos
Click HERE to Embed JoJo's D.R.E.A.M. Concert Trailer
Siwa will donate $1 for every ticket sold to Dancers Against Cancer (DAC). The foundation strives to create an alliance in the dance community by providing financial support and inspiration to dance educators, choreographers, dancers and their family members who have been impacted by cancer. For more information on Dancers Against Cancer (DAC) go to imadanceragainstcancer.org.
JoJo Siwa D.R.E.A.M. The Tour is produced by Nickelodeon and AEG Presents and sponsored by Hairdorables®. Nickelodeon's JoJo Siwa D.R.E.A.M. The Tour remains one of the hottest tickets of the year. Siwa's inaugural run ranked at #5 on the Hot Tours Chart as reported by Billboard, with 80 of the 96 dates sold out as the tour touched down in seven countries on three continents.
Nickelodeon's JoJo Siwa D.R.E.A.M. The Tour is a part of the Viacom Live Experiential portfolio. With 25 events and growing, Viacom Live delivers experiences that drive culture and conversation, allowing fans to connect with the most influential brands globally.
Visit JoJoDREAMTour.com for more information.
Nickelodeon superstar JoJoSiwa is a YouTube sensation, pop star, dancer, entrepreneur, social media influencer and The New York Times bestselling author. Siwa connects with her fans through many channels: via social media she has over 10.4 million subscribers with over 2.6 billion views on YouTube, she has over 8.9 million followers on Instagram, over 439,000 Twitter followers, over 17.3 million followers on TikTok(formerly Musical.ly), and over 596,000 followers on Facebook; through her SIWANATORZ club, which stands against negativity and bullying; through her global reach of consumer products including her signature bows, accessories, apparel, arts and crafts, cosmetics, home goods and party supplies; and with her hugely popular singles, "Boomerang," which has been viewed over 782 million times and RIAA certified platinum, "Kid in a Candy Store," which is RIAA certified gold, "Hold The Drama", and "D.R.E.A.M".
Siwa recently won her third Kids' Choice Award for "Favorite Social Music Star." Her previous Choice Awards include "Favorite Viral Music Artist" in 2017 and "Favorite Musical YouTube Creator" in 2018. She also performed at Kids' Choice Mexico 2018. In November 2018, Siwa released her first EP, D.R.E.A.M. The Music, featuring four new songs: "D.R.E.A.M," "My Story," "Everyday Popstars" and "Only Getting Better." The music video for "D.R.E.A.M." was released on Siwa's YouTube channel and to date has garnered over 76 million views. Due to the success of D.R.E.A.M. The Music, Siwa released a second EP, Celebrate, in April featuring an additional four new songs: "It's Time To Celebrate," "#1U," "Worldwide Party," and "Bop!" The accompanying music videos for "Bop!" and "It's Time To Celebrate" have accumulated over 12 million views and 7.7 million views respectively on her YouTube channel.
In 2016, Nickelodeon and Siwa entered an exclusive licensing partnership to develop a line of consumer products inspired by Siwa. Categories span toys, apparel, accessories, consumer electronics, Halloween costumes and more. To date, over 50 million JoJo Bows have been sold. Siwa's consumer products are available internationally, including the UK, Canada, Australia and Mexico.
Siwa launched her first animated shorts series, The JoJo & BowBow Show Show starring Siwa and her furry best friend BowBow. She also worked alongside Nick Cannon in Nickelodeon's hit competition series Lip Sync Battle Shorties. She has also appeared on various Nickelodeon live-action series including School of Rock and The Thundermans. Siwa performed a medley of hits at Nickelodeon's 2018 Kids' Choice Awards, including her platinum smash "Boomerang."
Read More
Sat, January 15, 2022
7:00 PM
Tickets available online via Ticketmaster or over the phone (208) 426-1766.