Metallica
Worldwired Tour 2018-1019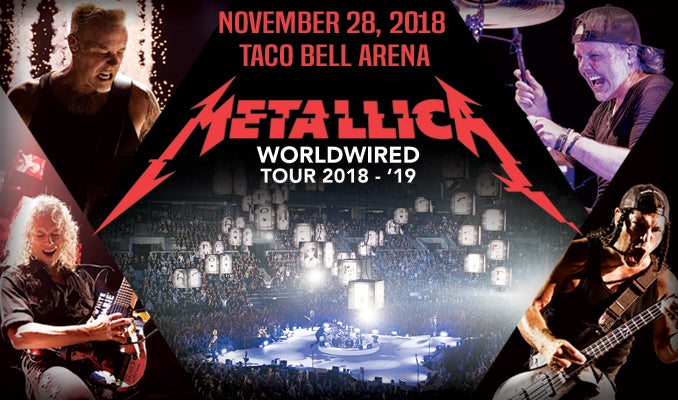 share
Event Information
PRE-PURCHASE YOUR PARKING PASS
GENERAL ADMISSION FLOOR
LINEUP & WRIST-BANDING PROCESS

To eliminate the need for guests with General Admission (GA) Floor Tickets to stand in line for extended periods of time, we're rolling out the following process to improve our guests' experiences.

Important Notice:
The following policy only applies to those guests with GA Floor tickets who wish to line-up early so as to secure a favorable position on the floor.
For guests with GA floor tickets that do not choose to arrive early and secure a position, floor wristbands will be provided upon entry into the Arena and validation of ticket.


CHECKLIST FOR EARLY WRISTBANDING:
1
. Early Line-Up and wristbanding begins at
6:00am at Entrance 3
.
2.
Temporary Parking for those coming on-site to secure a wristband is available in the surrounding lots and parking garages. Parking Staff can direct you.
3
. After Parking, make your way to Entrance 3. Please have your General Admission (GA) Floor Ticket handy.
(mobile ticket, printed ticket in hand, etc.)
4.
Provide the Taco Bell Arena staff at Entrance 3 with your verified GA Floor ticket.
5
. Upon verification of the GA Floor ticket, a staff member will secure a numbered wristband to your LEFT wrist.
6
. Once you have a numbered wristband, you may leave. NO need to wait on-site all day!
(wristbands given out in numeric order, starting with #1)
7. MAKE SURE TO ARRIVE BACK ON-SITE AT ENTRANCE 3 BEFORE 5PM.
At 5PM, guests who have secured wristbands in advance will order themselves with assisstance from staff outside Entrance 3 starting with number 1. Guests with wristbands MUST be on-site at Entrance 3 to line up no later than 5:45PM as the lineup access will then close as staff prepare guests for entry.
8.
When doors open, pre-numbered guests will be allowed entry first. Once pre-numbered guests are in the venue, entry will begin for remaining ticketed guests.
* Guests arriving on-site within 1 hour before doors (who did not obtain a wristband earlier in the day) will be able to line-up at Entrance 3 and let in directly after pre-banded guests.

To read the FULL Policy, click here and select General Admission (GA) Floor Line-Up
EVENT DETAILS
Doors Open: 6:00pm
Show Time: 7:30pm
Parking
Click Here for an interactive Boise State University campus map. Taco Bell Arena encourages patrons to allow at least 45 minutes to park and access Taco Bell Arena.
Parking will be available starting at 5:00pm for $20.00 (cash) per space, based on availability in the parking lots located around Bronco Stadium and the Taco Bell Arena, as well as parking garages on campus.
Accessible Parking Information:
Designated parking is available for guests with accessible needs. Accessible parking will be available in the Arena Lot located on the corner of University Dr. and Bronco Circle for $20.00 while supplies last.
Additional accessible parking will also be available in the Lincoln Garage off of Belmont Street and Lincoln for $20. These spaces are designated for vehicles displaying a current state-issued accessible placard or license plate.
A free event shuttle that will accommodate patrons with accessible needs will be available to Taco Bell Arena from Lincoln Garage. Accessible spaces are filled on a first-come, first-served basis so please plan accordingly.
Arena Accessibility Information:
Taco Bell Arena is equipped with an elevator at Entrances 1 and 2 that accesses all public areas of the arena. Should you require a wheelchair escort or other special assistance in reaching your seat, please see any Guest Service staff member. There is also an ADA entrance lane at each open entrance; this lane is on the right-hand side of the identified lanes.
Complimentary Assistive Listening Devices and Sensory Bags are available. Please see any Guest Service staff member to request a device bag. Sensory Bags are available in each lobby, as well as the Guest Services locations.
All restrooms facilities at Taco Bell Arena are equipped to accommodate guests with accessible needs.
Entry
Entrances 1, 2 and 3 will be open for the show. Entrance 4 will be open to the public starting at 6pm for public doors, until that time the only lineup permitted at/outside Entrance 4 will be for VIP activity.
Elevators are located inside Entrances 1 and 2.
GUESTS WITH FLOOR TICKETS, MUST ENTER AT ENTRANCE 3. NO exceptions.
Concessions
Food and beverage will be available for purchase inside the Arena.
Everyone who is in possession of an alcoholic beverage must have a wristband. Wristbands will be distributed at all alcohol stands.
All permanent and portable alcohol and concessions stands accept Visa, or MasterCard and cash.
Alcohol service typically ends one hour before the end of the show. Taco Bell Arena encourages safe, legal and responsible consumption of alcohol.
SEE IT, TEXT IT*
Text: ARENA <space> issue and location to 69050 Questions, comments and concerns are welcome.
*Standard message and data rates may apply
Photo Policy
Small personal cameras will be permitted. No professional cameras or cameras with detachable lenses, video or audio recorders will be allowed inside the Arena.
Cell Phone Etiquette
Please put all cell phones on silent and refrain from cell phone use that causes the display screen to light up. As a courtesy for those around you, please exit to a lobby to use your phone.
Hearing Protection & Assistance
Upon request, complimentary earplugs are available from all Guest Services Staff and the Guest Services location in sections 39 and 40 on Level 2 Mezzanine upon request.

Taco Bell Arena also has assisted listening devices. If you would like to use one to improve your event experience, please contact a Guest Services staff member.
Merchandise
Merchandise will be available for purchase inside the Arena in Lobbies 2, 3 and 4. All stands will accept Visa, MasterCard or cash.
Recycling
Taco Bell Arena continually strives to improve their commitment to the protection of the environment and enhancing the patron experience. To make the decision to recycle easier, Taco Bell Arena has trash and recycling bins throughout the concourses. Acceptable recycling items are empty plastic bottles, empty plastic cups, paper candy boxes, aluminum cans, and clean paper. Everything else should be put into the trash bin. Please help Taco Bell Arena by recycling the acceptable items in a recycling bin near you!
Non-permitted Items; failure to comply will subject you to ejection from the building
All guests entering the arena are subject to a walk-through metal-detector screening, visual inspection, and bag inspection conducted by Taco Bell Arena security personnel. Prohibited items include anything that can be deemed a threat to public safety by Taco Bell Arena and include but are not limited to:
No professional cameras Video recording or streaming devices, iPads, Google Glass, Drones, Selfie-sticks Outside food or drink Bottles, cans, coolers, other containers Large bags or backpacks Weapons of any kid including chains, spikes, collars, some jewelry or any implement that could be used as a weapon Fireworks/pyrotechnics, air horns Laser pointers, glow sticks, or flash bulbs Controlled substances
*All dates, times and show information are subject to change without notice.
Read More
Wed, November 28, 2018
7:30 PM
$65 & $135
Tickets on sale now! Purchase tickets online exclusively through ticketmaster.com, in-person at the Taco Bell Arena Box Office OR over-the-phone. DOORS OPEN AT 6PM.