Steve Miller Band - CANCELLED
AT THE IDAHO BOTANICAL GARDEN
x
In light of ongoing public health concerns, the Steve Miller Band concert on July 14th has been cancelled. More info below.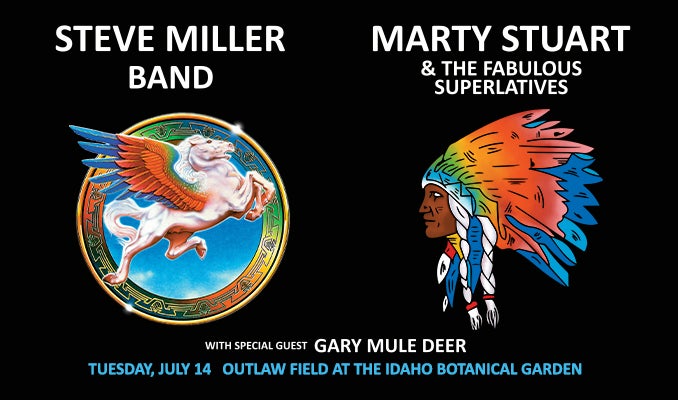 share
Event Information
MORE INFORMATION FROM TICKETMASTER
The Steve Miller Band 2020 Summer Tour has been cancelled due to Covid-19. All tickets will be fully refunded. Your safety and health are the most important thing to us. We will see you as soon as it's safe again. Thank you.
Tickets purchases from Ticketmaster will be automatically refunded. All other refunds are available at the point of purchase.
Like you, we were really looking forward to it! The late great Ella Fitzgerald said "Music is the universal language… it brings people closer together." And we're really missing that right now.
For the past 12 years, the Idaho Botanical Garden has been your go-to for outdoor concerts in the Treasure Valley. The Garden has helped you embrace your inner rock star and your love of nature at the Outlaw Field Summer Concert Series. The funds from Outlaw Field help the Garden keep the flowers growing, lights glowing, and music flowing. Losing money from canceled concerts endangers the future of the Outlaw Field and the Garden as a whole. We understand times are tough right now, but if you have the means, join us in supporting IBG and guarantee another season of Outlaw Field by donating your ticket refund through this link.
Read More
Related Links
This event has been cancelled.
TBA