Timberline High School Graduation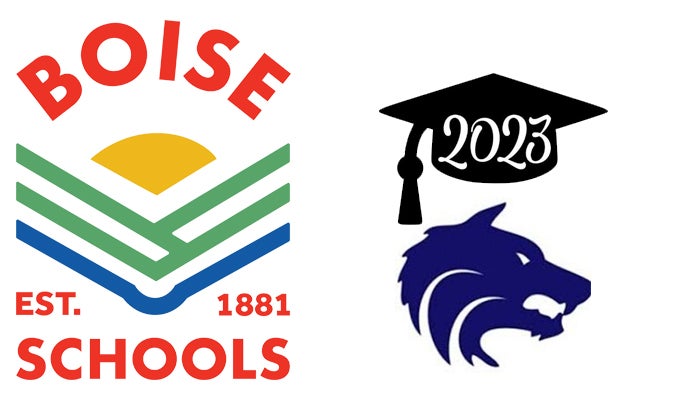 share
Event Information
Congratulations to the Class of 2023!
Boise School District Graduation Ceremonies for 2023 - FAQs
Live Streaming Link To View High School Graduation
Thursday, May 25th - Timberline High School
What is the Arena's bag policy?
Bags and/or purses no larger than 11 x 17 are permitted.
Backpacks, regardless of size, are not allowed.
Exceptions may be made (but are not guaranteed) for bags necessary for medical or children needs.
What is the Arena's screening policy?
For your safety, all guests entering the Arena are subject to a metal-detector screening, visual inspection, and/or bag inspection conducted by Arena security personnel. Refusal to agree to the search may result in non-admittance. Prohibited items include anything that can be deemed a threat to public safety regardless of permit. In the event that prohibited items are revealed during a search, guests may either return the item to their vehicle or surrend the item. Surrendered items will be disposed of and not returned.
No weapons of any kind – no laser pointers or anything deemed a safety threat by staff at entries.
No bags larger than 11" x 17" (unless approved by Entry Security Supervisor for medical or special accommodations). Any exceptions will be tagged with a special tag by Entry Supervisor.
Food and beverages will be allowed in reasonable quantities; no glass will be permitted.
No signs larger 8.5" x 11" in size and no signage with profanity or other obscene material.
Where do I park?
Free public parking is available to attendees in the stadium lots at University and Broadway. Please do not park in spaces with signage designated for specific purposes or service vehicles. All metered spaces require payment at all times. Accessible parking spaces are reserved for guests requiring those provisions.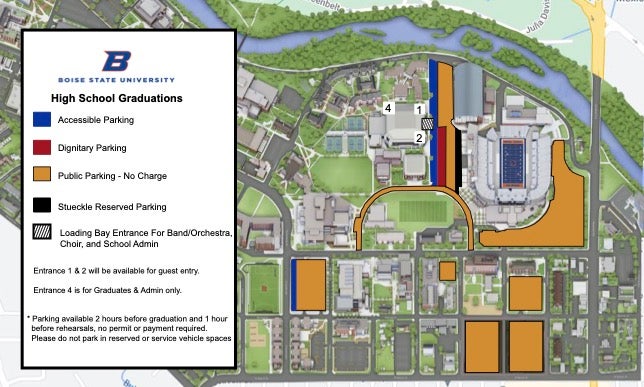 Where do graduates enter the Arena?
Graduates will enter the Arena through Entrance 4 and stage in the auxiliary gym. Only students and school district administration are allowed in this space (no family or friends) unless a student has an accessible need that requires assistance.
ExtraMile Arena and/or Boise State University are not responsible for personal valuables left in the auxiliary gym room during the ceremony. These items should be kept in the student's possession, locked in a vehicle or left with family members.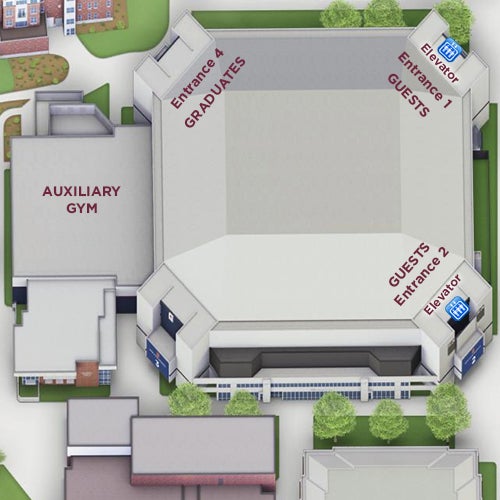 What entrances are open for public entry and when do they open?
Entrances 1 and 2 open at 6:00pm, one hour before the ceremony start time of 7:00pm. In order to ensure efficient entry into the building before the ceremony starts, we encourage you to arrive early and come prepared for the security screening process.
An elevator is availalble in both Entrance 1 and 2.
Is seating for this event general admission or reserved?
Seating for this event is general admission (non-ticketed); first come, first seated.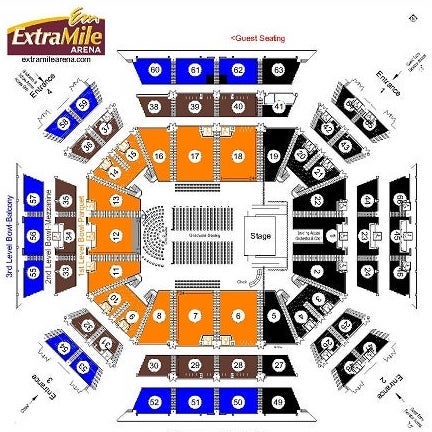 What is my assumption of risk by entering the Arena?
By entering, you agree to the following (and if you are a minor, your parents/guardians agree to the following on your behalf):
COVID-19. Boise State University has established reasonable physical safeguards relative to the coronavirus that causes COVID-19 illness. However, an inherent risk of exposure to the coronavirus exists in any public place where people are present and gathered, and while on Boise State property you agree to follow all posted rules and verbal instructions from staff members, and you voluntarily assume all risks related to exposure to the coronavirus.
Assumption of Risk. You assume all risk and accept all responsibility for any injuries or illnesses that might result not only from your actions, inaction or negligence, but also that of others, the condition of the venue and/or your presence at this event. Boise State University, the State Board of Education, and the State of Idaho are not responsible for any such injuries or illnesses, or any lost, damaged or stolen property.
What is the Arena's Entry/Reentry Policy?
Re-entry (entering, exiting and entering again) is permitted for these events. However, it is necessary for guests to go through the security screening process each time they enter.
Is wheelchair transportation assistance available for guests with mobility limitations?
Wheelchair escorts are available at any entry point for transportation to and from seating areas. As it is important that Arena wheelchairs remain available to escort all guests that request this assistance, please work with staff if you need help in finding a seat for the duration of the event.
Where are wheelchair spaces available for viewing the event?
Wheelchair spaces/platforms are available specifically for patrons with this need and are located on all three seating levels. Adjacent companion seating is available in these areas.
Beyond wheelchair spaces, is there additional seating for guests with accessible needs?
The top row of seats in the parquet is being reserved for people with accessible needs (mobility limitations, cannot navigate stairs, need aisle seats, etc.). There will be signs on these seats so please be mindful of guests needing accommodations when choosing a spot to sit.
How long do the ceremonies usually last?
On average, ceremonies last approximately two hours.
Can I use a camera bi/tripod to take pictures during the ceremony?
Cameras are welcome but please leave bi/tri-pods at home.
Are concession stands open for these events?
Yes. Light food and beverage will be available for purchase.
Can I bring my graduate flowers, balloons, etc.?
Guests are permitted to enter with the following items, but these items are restricted from being brought into the Arena and must be checked once inside the entry. A claim tag will be issued for retrieval of the item at the same location after the ceremony, prior to exiting the Arena:
• Helium filled balloons
• Glass flower vases (Flower arrangements not in glass vases are permitted in the Arena.)
Can I bring signs celebrating my graduate?
Signs are permitted as long as content is appropriate (as interpreted by entry staff) and they do not block the view or impact the experience of guests in surrounding seats/areas.
What are the Arena's rules on smoking/vaping?
Smoking and vaping are permitted in designated areas only.
Where can I meet my graduate after the ceremony?
At the end of the ceremony, graduates will exit out of the auxiliary gym on the northwest side of the venue. Please remain seated until students have left the building. Your assistance in maintaining social distancing by refraining from congregating in spaces in and around the Arena and exiting campus is appreciated.
Who do I call if I left an item at the Arena (lost and found)?
ExtraMile Arena is not responsible for any items left inside or outside the facility. However, there are times that items left in the Arena are turned into our front desk. Call 208-426-1900 to check for a lost item.
Where can I find additional information about ExtraMile Arena and its policies and procedures?
For more information about ExtraMile Arena, please visit https://www.extramilearena.com/plan-your-visit/a-z-guide. If you have questions regarding any of this information, please contact the Arena at 208-426-1900 or extramilearena@boisestate.edu.
Read More
Thu, May 25, 2023
7:00 PM