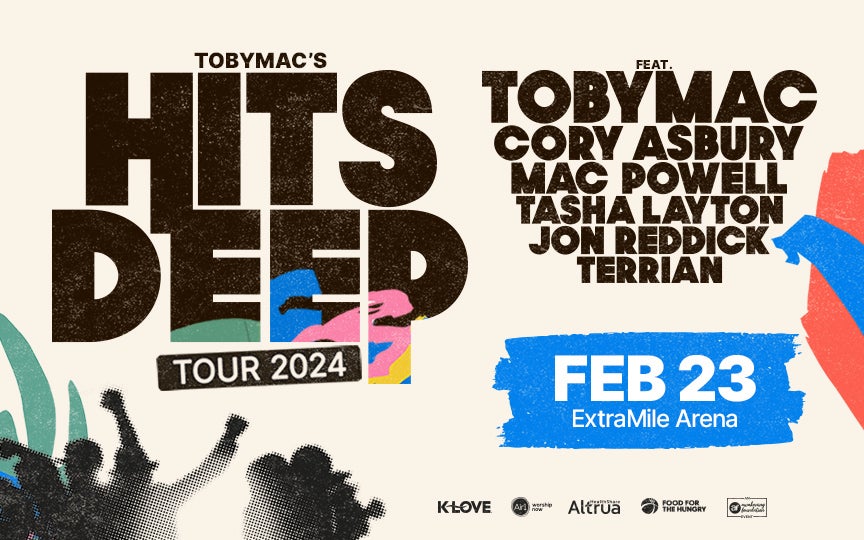 ExtraMile Arena
TobyMac Hits Deep Tour 2024
Including Cory Asbury, Mac Powell, Tasha Layton, Jon Reddick, And Terrian
Date

Feb

23

, 2024

Event Starts

7:00 PM

Venue

ExtraMile Arena

Doors Open

6:00 PM

On Sale

On Sale Now
Event Details
AWAKENING FOUNDATION ANNOUNCES THE DATES FOR HITS DEEP 2024;
Featuring TobyMac, The Tour Also Includes Cory Asbury, Mac Powell, Tasha Layton, Jon Reddick, And Terrian
Tickets on sale now - use code 'INSIDER' for 20% off tickets!
Buy Tickets Now | Code: INSIDER
*Artist lineup subject to change.
---
Awakening Foundation announces the dates of TobyMac's Hits Deep 2024 Tour. Supported by K-LOVE, Air1, Altrua Healthshare, and Food for the Hungry, the 30-city run kicks off on January 26 and will run through March 23.
Now in its 9th year, you do not want to miss this unforgettable night of pure energy when TobyMac will be joined by many of today's top artists, including Cory Asbury, Mac Powell, Tasha Layton, Jon Reddick, and Terrian. Every act on this legendary tour will have you on your feet singing your heart out and experiencing the power of music.
"Hits Deep Tour is my favorite time of the year," TobyMac shares. "Not only do I get to see the people in over 30 states but I get to hang out backstage with some of my favorite artists. It's a diverse night of music that hits deep featuring six different artists and their music. The songs people know and sing along with because they were played on radio, hit songs all night long."
Tickets for Hits Deep 2024 go on sale Friday, September 22 at 10:00am MDT. Click HERE! Mark your calendars, gather your family and friends, and get ready to experience faith, fun, and inspiration like never before!
---
ABOUT ALTRUA HEALTHSHARE: Altrua HealthShare is part of Altrua Ministries, a 501(c)(3) nonprofit organization. As a nationally recognized, faith-based Health Care Sharing Ministry of individuals and families, a collaborative community of health-conscious people, providers, dentists, nurses, staff, and members, we are dedicated to a single purpose: improving your health by "Caring for One Another." Our membership opportunities are developed and based on Biblical principles established for living a healthy and honorable lifestyle, and members must believe in our Statement of Standards to join. Find out more at altruahealthshare.org.
ABOUT FOOD FOR THE HUNGRY: Food for the Hungry is a Christian humanitarian aid and global development organization that has designed, developed, and delivered solutions for more than 50 years so that children, families, and communities can flourish. Collaborating with local leaders across sectors, they co-create solutions that build resilience by strengthening mental, physical, and spiritual well-being. They serve nearly ten million people in 18 countries so that communities have the agency and resources necessary to realize their God-given potential. Find out more at FH.org.
ABOUT K-LOVE RADIO: K-LOVE creates compelling media designed to inspire and encourage audiences to have a meaningful relationship with Christ. K-LOVE is listener-supported and delivers positive and encouraging music and messages through nearly 600 signals across all 50 states, the K-LOVE App, smart devices, klove.com, and K-LOVE On Demand.
ABOUT AIR1 RADIO: Like its parent company (Educational Media Foundation) and sister station (K-LOVE), Air1 exists to create compelling media that inspires and encourages audiences to have a meaningful relationship with Christ. Broadcast on more than 300 signals nationwide, and streaming around the world on Air1.com, the Air1 Radio App, iHeartRadio, Alexa, Siri, TuneIn, Roku, and more, Air1 is always there to welcome you and help you "worship through it."
ABOUT AWAKENING FOUNDATION: The Awakening Foundation exists to share the message of hope and resources with individuals and families in local and international communities by bringing together artists, fans, and like-minded organizations through live events and missional endeavors to serve and empower those in need. All Awakening Foundation events are powered by Awakening Events. Consistently ranked among the top promoters in America and reaching No. 1 in the world in total tickets sold, Awakening Events is a leader in the live faith-based entertainment industry. Be sure to find out more at AwakeningFoundation.com.
Additional Ticket Information