truTV's Impractical Jokers - RESCHEDULED TO 02/10/22
"The Scoopski Potatoes Tour" Starring The Tenderloins
x
A Note on the Safety Protocols in Place for this Event:
Masks or face coverings are required to be worn by all patrons while in the venue. COVID-19 related health protocols may be in effect at the time of performance, including, without limitation, testing, confirmation of prior travel to restricted areas and/or confirmation of no known symptoms of and exposure to COVID-19. We reserve the right to unilaterally make changes to health protocols according to updated public health guidance and applicable law. Future updates will be provided to ticket holders prior to the performance. Any ticket holder who does not comply with any COVID-19 related health protocol may be required to leave the venue, and his/her/their ticket will not be refunded. Guests with accessibility questions, or who require additional assistance related to the venue's COVID-19 policies may email [email protected] or call (208) 426-1766. Please note: This event is being planned at full capacity, subject to applicable law and governmental approval.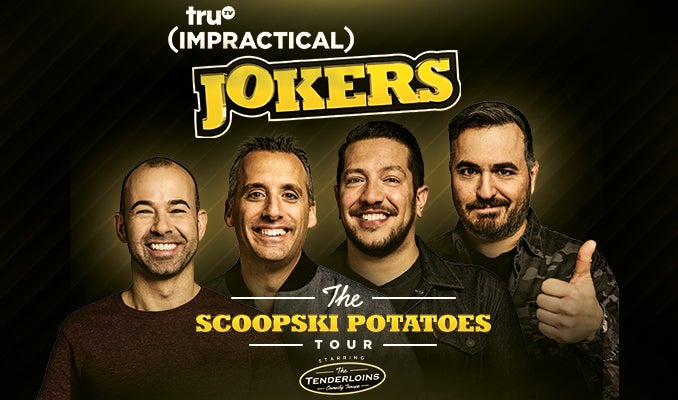 share
Event Information
Due to unforeseen circumstances, the October 22, 2021 show on truTV Impractical Jokers "The Scoopski Potatoes Tour" Starring The Tenderloins at ExtraMile Arena in Boise, Idaho has been rescheduled for February 10, 2022. All tickets for the original performance will be honored, so patrons should hold on to their tickets. For ticket inquiries, please contact point of purchase within the next 30 days. Refund request window expires on August 18, 2021. For tour information, please visit impracticaljokers.com or thetenderloins.com.
Read More