truTV's Impractical Jokers - RESCHEDULED TO 4.9.21
"The Scoopski Potatoes Tour" Starring The Tenderloins
x
This event has been rescheduled to 4.9.21. Please read below for full information.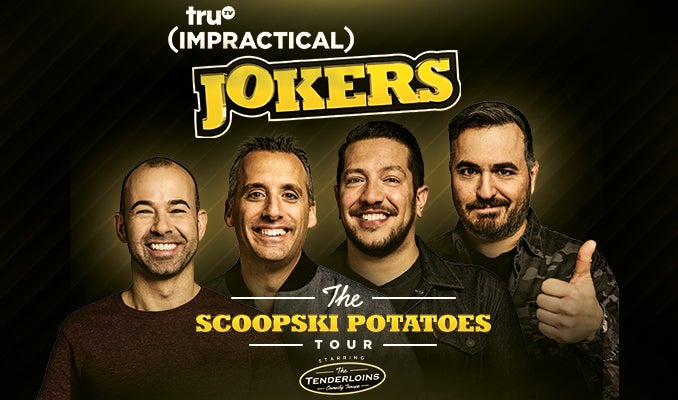 share
Event Information
Due to the current global health crisis as well as travel and performance restrictions, the July 23rd, 2020 show on truTV Impractical Jokers "The Scoopski Potatoes Tour" Starring The Tenderloins at ExtraMile Arena in Boise, ID has been rescheduled for April 9th, 2021.
This very difficult decision was made following the recommendations of government authorities including the Center for Disease Control to reduce the spread of the coronavirus disease 2019 (COVID-19). All tickets for the original performance will be honored, so patrons should hold on to their tickets. Refunds are available at point of purchase through July 17th, 2020. For ticket inquiries, please contact point of purchase. For tour information, please visit impracticaljokers.com or thetenderloins.com.
Stars of Impractical Jokers Announce "The Scoopski Potatoes Tour,"
An All-New Comedy Tour Launching Summer 2020
This show is 16+ Suggested/Parental Discretion Advised
Friday, December 13, 2019 - The Tenderloins, creators and stars of truTV's hit show Impractical Jokers, announced today a brand new comedy tour called "The Scoopski Potatoes Tour." Launching Summer 2020, the 30+ city tour is produced by Outback Presents, as well as Live Nation. Off the heels of the Season 2 renewal of their new game show "The Misery Index," the Season 9 pickup of "Impractical Jokers," and their sold-out global tour "Cranjis McBasketball World Comedy Tour," The Tenderloins are excited to bring new videos and jokes to comedy fans across the nation.
Pre-sale tickets are available December 13, 2019 @ 12pm local and can be found at thetenderloins.com/tour.
"The Scoopski Potatoes Tour" will be kicking off in Albany, NY on July 8, 2020, visiting such markets as Pittsburgh, PA; Minneapolis, MN; New Orleans, LA; Portland, OR among many others.
James "Murr" Murray, Brian "Q" Quinn, Joe Gatto, and Sal Vulcano have been making audiences laugh on Impractical Jokers since 2011, and will reach a 200 episode milestone in February 2020. Impractical Jokers is a top 5 comedy on cable, and truTV's longest-running & top-rated original comedy.
Ahead of this new tour, the guys will be setting sail on their fourth annual "Impractical Jokers Cruise" on the Norweigan Pearl on February 10-14, 2020 with Sixthman. Additionally, their highly-anticipated first feature film, directed by Funny or Die's Chris Henchy, will premiere early 2020.
For more information and a full list of "The Scoopski Potatoes Tour" tour stops see below or visit impracticaljokers.com
About The Tenderloins:
The Tenderloins is a New York-based comedy troupe, whose four members – Joe Gatto, James Murray, Brian Quinn and Sal Vulcano – are the creators, executive producers, and stars of truTV's hit series, Impractical Jokers. Now in its eighth season, Impractical Jokers follows The Tenderloins as they compete to embarrass each other while being filmed by hidden cameras. With each new season, the show continues to take dares to outrageous levels with new over-the-top hijinks. In addition to the top-rated television show, the group's first feature film will premiere in 2020 and their new TV show - TBS's "The Misery Index" hosted by Jameela Jamil - premiered as at top rate cable comedy this fall. The Troupe has toured steadily over the last four years with its highly-successful, "Where's Larry?", "Santiago Sent Us," & "Cranjis McBasketball" tours playing to hundreds of thousands of fans in the US and UK, including three sold-out nights at Radio City Music Hall, a sold-out Madison Square Garden, and six sold-out shows at London's O2 Arena. Natives of Staten Island, NY, Vulcano, Gatto, Murray and Quinn met while attending high school and later formed The Tenderloins Comedy Troupe in 1999. After years of performing live improv and sketch comedy shows, The Tenderloins crossed over to the web, garnering millions of views for their internet sketches, eventually creating the runaway success Impractical Jokers for truTV. Impractical Jokers is top 5 in its time slot on cable in the US and is the #1 show on Comedy Central in the United Kingdom and India.
Read More
Fri, April 9, 2021
7:30 PM
Tickets on sale NOW via ticketmaster.com, over the phone (208) 426-1766 or in-person at our Box Office.