Winter Jam 2023
We The Kingdom, Jeremy Camp & more
x
Standard Parking is $10 (East Stadium lot at University and Broadway and at the Lincoln Avenue Garage at University and Lincoln).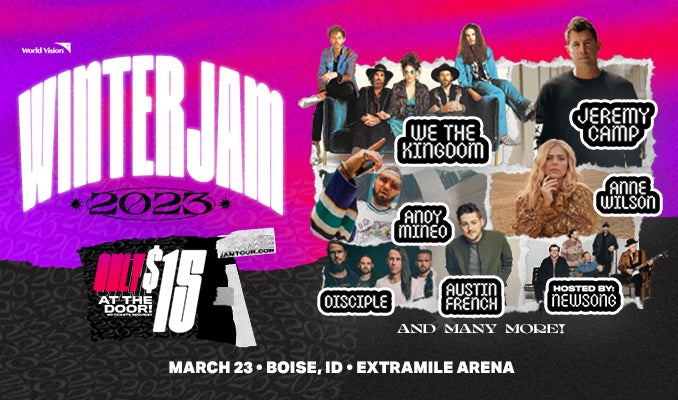 share
Event Information
Know Before You Go
At a minimum, what do I need to know?
Doors/Showtime:
In order to ensure efficient entry into the building before the event starts, we encourage you to arrive early and come prepared for the security screening process.
Event parking lots open at 3:45pm.
Doors open at 6:00pm.
The show starts at 7:00pm.
Ticketing:
This is a general admission event.
$15 donations at the door need to be cash or check (make checks out to NewSong Ministries).

Seating will be available on the floor and in the Parquet, Mezzanine and Balcony levels. First come / first seated. Winter Jam does not allow reserving seats for parties who do not arrive together.
Bag Policy:
Bags and/or purses no larger than 11 x 17 are permitted.
Backpacks, regardless of size, are not allowed.
Exceptions may be made (but are not guaranteed) for bags necessary for medical or children needs.
Screening:
For your safety, all guests entering the Arena are subject to a metal-detector screening, visual inspection and/or bag inspection conducted by Arena security personnel. Refusal to agree to the search may result in non-admittance. Prohibited items include anything that can be deemed a threat to public safety regardless of permit. In the event that prohibited items are revealed during a search, guests may either return the item to their vehicle or the item will need to be surrendered.
Surrendered items will be disposed of and not returned.
In order to keep guests safe and reduce unnecessary touchpoints, the following items are prohibited:
Weapons of any kind or items that could be used as a weapon (Leatherman, knives, brass knuckles, metal chains, sharp metal objects, pepper sprays, bullets, etc.)
Bags larger than 11 x 17 and backpacks of any size
Fireworks / Pyrotechnics of any kind
Laser pointers, glow sticks, or flashbulbs
iPads, Google Glass, Selfie-sticks, Laptops, Drones, Video/Audio Recorders
Outside food & beverage (cans, bottles, coolers, alcohol, etc.)
Artificial noise-makers (such as air horns, cowbells, etc.)
Wrapped packages
Objects that can be used as projectiles
Unapproved pamphlets, handouts, signs, banners, etc.
Animals (Exception: recognized service animals under titles II and III of the ADA)
Unauthorized chemicals
Beach Balls, Skateboards, roller blades, roller shoes
Any and all items/controlled substances that are illegal at the city, county, State, and/or Federal level or deemed suspicious due to quantity or uniqueness
Any other item deemed by security to be inappropriate for the event or a threat to public safety
*These items will not be checked or allowed into the building so please leave them home or in your car.
Assumption of Risk:
Event organizers do not assume liability. By entering the Arena, you agree to adhere to all Boise State University policies (to include COVID policies) and assume full liability and risk incurred before, during, and after the event.
Boise State COVID Protocols & Health Guidelines:
If you are sick, living with someone who is sick or experiencing the following symptoms, do not enter the Arena.
Fever or chills
Cough
Shortness of breath or difficulty breathing
Fatigue
Muscle or body aches
Headache
New loss of taste or smell
Sore throat
Congestion or runny nose
Nausea or vomiting
Diarrhea
Now for the rest of the event details….
Additional information about the Arena's COVID protocols:
The health and safety of ExtraMile Arena guests, event participants, and employees are a top priority for Boise State University. Visit https://www.extramilearena.com/covid to review all of the safeguards that ExtraMile Arena has in place to keep people safe.
* COVID protocols are subject to change based on state, local, federal, University or show guidelines.

Parking:
Standard first come/first served parking in either the East Stadium lot OR Lincoln Garage is available for $10.

LIMITED bus parking is available for $20. Additionally, vehicles taking up more than one space may be subject to additional charge.
On the day of the event, parking is available in the East Stadium lot at University and Broadway and at the Lincoln Avenue Garage at University and Lincoln to attendees.
Please do not park in spaces with signage designated for specific purposes or service vehicles.
All metered spaces require payment at all times.
Accessible parking spaces are reserved for guests requiring those provisions.
For this event, lots open to the public at 3:45pm.
Entrances Information:
Entrances 1, 2 and 3 open at 6:00pm, one hour before the event start time of 7:00pm. In order to ensure efficient entry into the building, we encourage you to arrive early and come prepared for the security screening process.
For floor access, please use entrance 3 .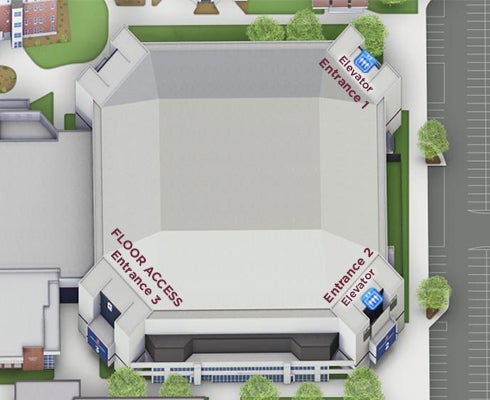 Facility Entrance Diagram

Elevator Access:
Elevators are available in lobbies 1 and 2.
Entry/Re-Entry Policy:
Re-entry (entering, exiting, and entering again) is not permitted for this event.
Merchandise:
Merch stands will be located in lobbies 2, 3 and 4 and behind Parquet sections 11-13. See a guest services representative for a map of artists/offerings available in each space.
Concessions:
Food and non-alcoholic beverages will be available for purchase.
Smoking/Vaping:
Smoking and vaping are permitted in designated areas only.
Wheelchair Transportation Assistance:
Guest Services staff wheelchair escorts are available at any entry point for transportation to and from seating areas. As it is important that Arena wheelchairs remain available to escort all guests that request this assistance, please work with staff if help in finding a seat for the duration of the event is necessary.
Wheelchair Spaces Available:
Wheelchair spaces are limited and reserved specifically for patrons with this need and are located on all three seating levels. Adjacent companion seating is available in these areas.
ADA Seating:
The top row of seats in the Parquet are being reserved for people with accessible seating needs (mobility limitations, cannot navigate stairs, need aisle seats, etc.). There will be signs on these seats so please be mindful of guests needing accommodations when choosing a spot to sit. If a member of your party is not in need of accessible seating, Arena staff may require relocation.
Hearing Impairment Assistance Available:
The Arena has an Assistive Listening System (ALS). At the entry, ask a Guest Services staff member for a receiver unit.
Arena Lost and Found:
The Arena is not responsible for any items left inside or outside the facility. However, there are times that items left in the Arena are turned into our front desk. Call 208-426-1900 to check for a lost item.
Additional Information about Arena Policies and Procedures:
For more information about the Arena, please visit https://www.extramilearena.com/plan-your-visit/a-z-guide. If you have questions regarding any of this information, please contact the Arena at 208-426-1900 or click here to email.
Read More
Thu, March 23, 2023
7:00 PM