Oct 2, 2017
After the Las Vegas and Manchester Casualties
Taco Bell Arena Advises "If You See Something, Say Something"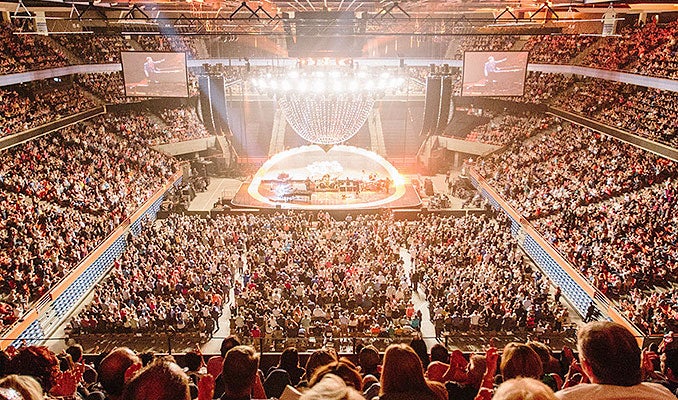 Boise (10.2.17) We are saddened by the mass shooting that took place at the Route 91 Harvest Festival in Las Vegas, Nevada, and our thoughts are with all of those impacted. The securing of events at Taco Bell Arena to provide for the safety of artists, fans and staff is of utmost importance, and is a collaborative effort involving input and resources from Tour Security, Taco Bell Arena Administration, Boise State University Public Safety, and local jurisdictional and federal agencies.

​A variety of industry standard ​​procedures ​are implemented, some of which include magnetometer screening, bag searches, perimeter reinforcement, continuous training of event staff and other recommended best practices as set forth by the International Association of Venue Managers​. The​ coordinated event management structure ​operates under ​the ​​National Incident Management Structure.

In light of recent incidents, we encourage all attendees at events to maintain a heightened sense of awareness, and communicate concerns regarding a person, vehicle or package that seems out of place​; security ​measures are enhanced by communication resulting from tips from alert eyes and ears. The If You See Something, Say Something™ campaign is a simple and effective program to engage the public and key front line employees in identifying and reporting indicators of terrorism, crime and other threats to the proper law enforcement authorities. ​ ​In ​Taco Bell Arena, notify the nearest Taco Bell Arena Staff or text 69050 / ARENA / then ​relay ​the situation. You can also call the Taco Bell Arena Command Center (208)​ ​426-3427.​ ​For an emergency coming into an event in a parking garage or on the street call 9-1-1.

​I​n addition to participating in the security measures in place and following instructions from event staff, attendees are encouraged to take note of their physical surroundings, and discuss/develop personal response plans for themselves and their party that could be deployed if an incident or emergency should unfold.

We so appreciate all of our guests, and everyone's understanding of the necessary measures to properly secure an event. Ultimately, we are committed to ensuring that all who come through our doors have a positive, safe, secure, and memorable experience at our facility.