Jan 8, 2019
Guests with General Admission (GA) Floor Tickets for Upcoming Events
NEW Line-up and Numbering Process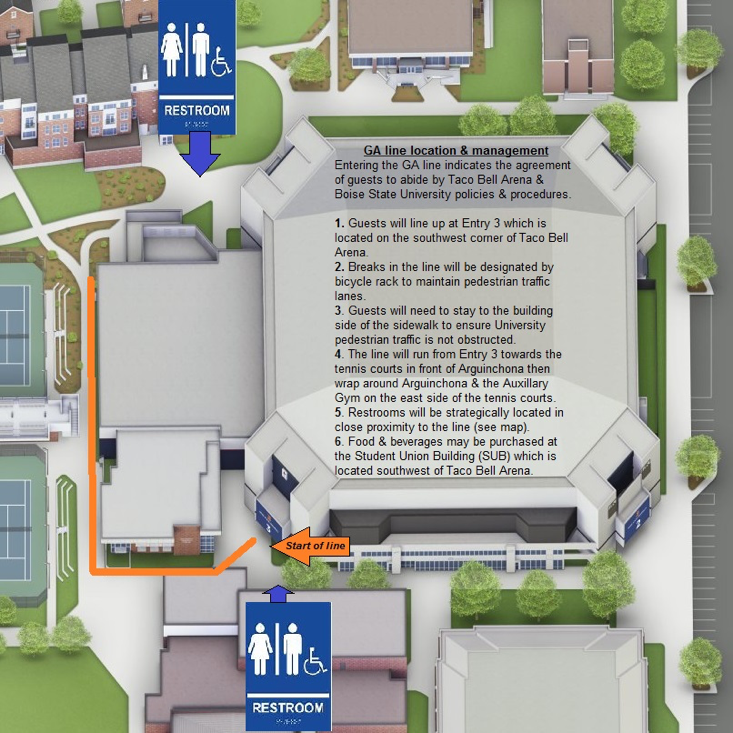 GENERAL ADMISSION FLOOR
LINEUP & WRIST-BANDING PROCESS


To eliminate the need for guests with General Admission (GA) Floor Tickets to stand in line for extended periods of time, we're rolling out the following process to improve our guests' experiences.


Important Notice:
The following policy only applies to those guests with GA Floor tickets who wish to line-up early so as to secure a favorable position on the floor.
For guests with GA floor tickets that do not choose to arrive early and secure a position, floor wristbands will be provided upon entry into the Arena and validation of ticket.


CHECKLIST FOR EARLY WRISTBANDING:
1. Early Line-Up and wristbanding begins at 6:00am at Entrance 3.

2. Temporary Parking for those coming on-site to secure a wristband is available in the surrounding lots and parking garages. Parking Staff can direct you.

3. After Parking, make your way to Entrance 3. Please have your General Admission (GA) Floor Ticket handy (via print at home, in your ticketmaster app, etc.)

4. Provide the Taco Bell Arena staff at Entrance 3 with your verified GA Floor ticket.

5. Upon verification of the GA Floor ticket, a staff member will secure a numbered wristband to your LEFT wrist.

6. Once you have a numbered wristband, you may leave. NO need to wait on-site all day!
(wristbands given out in numeric order, starting with #1)

7. MAKE SURE TO ARRIVE BACK ON-SITE AT ENTRANCE 3 BEFORE 1 HOUR PRIOR TO THE POSTED DOOR TIME.
At 1 hour prior to doors, guests who have secured wristbands in advance will order themselves with assisstance from staff outside Entrance 3 starting with number 1. Guests with wristbands MUST be on-site at Entrance 3 to line up no later than 15 minutes prior to doors, as the lineup access will then close as staff prepare guests for entry.

8. When doors open, pre-numbered guests will be allowed entry first. Once pre-numbered guests are in the venue, entry will begin for remaining ticketed guests.


* Guests arriving on-site within 1 hour before doors (who did not obtain a wristband earlier in the day) will be able to line-up at Entrance 3 and let in directly after pre-banded guests.

To read the FULL Policy, click here and select General Admission (GA) Floor Line-Up