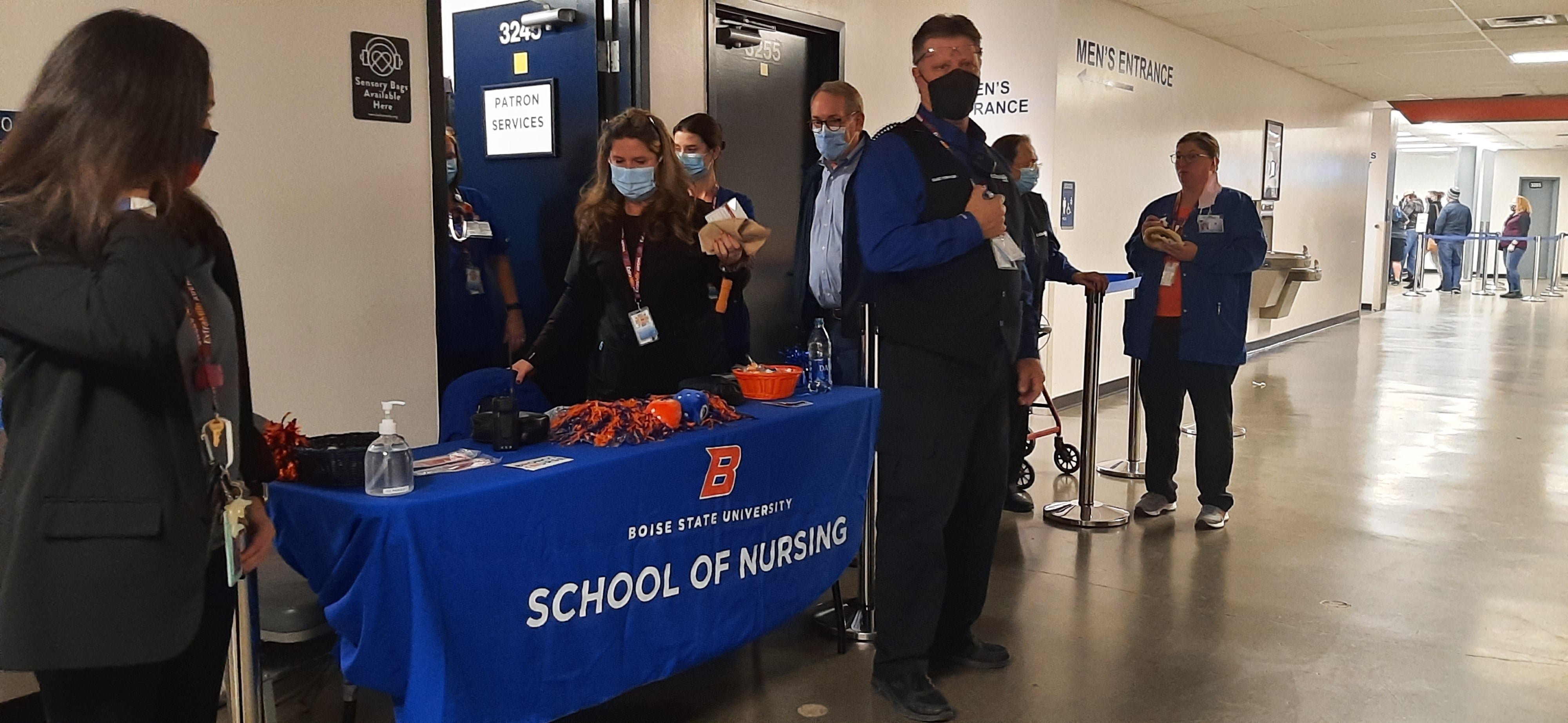 Boise State Nursing Students go the ExtraMile Providing Support for ExtraMile Arena Events
Since the start of the Fall Semester, the Boise State School of Nursing has partnered with ExtraMile Arena to provide First Aid support for event guests as well as staff COVID testing when needed for some events. The students, who gain clinical work hours towards their semester requirements, have gained hands-on experience at a variety of events and are currently preparing to help assist the 10,000 guests expected to be in attendance for Friday night's Eric Church concert.
Dr. Renee Walters, Boise State's Clinical Associate Professor of Nursing, who has experience providing similar support for Major League Baseball, the NFL, Nascar and concerts, brought the idea to ExtraMile Arena in the Fall of 2021. She said it was "embraced enthusiastically" by the Arena and specifically Tim Deck, ExtraMile Arena's Senior Associate Director who purchased all of the necessary supplies so as to not impact the nursing school's budget, and helped build out the program. Dr. Sarah Llewellyn, a Clinical Associate Professor for the School of Nursing, has also been instrumental in creating this curriculum and providing event-day support.
The collaboration has allowed the nursing students to create protocols, diagnose what level of care is needed, practice radio etiquette, assist with customer service, apply incident command techniques, and partner with ADA County Paramedics to understand their scope of practice. It has allowed the students to plan and prepare for a number of different scenarios depending on the type of event and its demographic. According to Dr. Walters, "this partnership has allowed the student to see a different lens of the nursing profession." Added Dr. Llewellyn, "this has provided a hands-on, in-person experience the students would not normally have without putting extra strain on our clinical partners."
One of the key takeaways for the nursing students is the level of logistical planning needed to support each event. Their first step in planning for Friday's concert, as they do for each event, is to review the Emergency Action Plan provided by ExtraMile Arena, discuss what duties and responsibilities may fall to their team and complete a pre-event worksheet. Depending on the event and demographic, there may be a higher risk of slips and falls, sensory needs, ADA requirements and even lost children, parents or compromised individuals in need of assistance. Additionally, the students must quickly assess risk based on the different scenarios they may encounter by evaluating the scene to minimize risk to the guests who are being treated as well as the surrounding guests. After each event, the students submit a written reflection on their experience which has helped them solidify their learnings.
The collaboration has not only been beneficial for the School of Nursing but also for ExtraMile Arena. The Arena typically employs over 100 student staff and this collaboration has allowed the Arena to continue to provide meaningful opportunities for students to serve our community while benefiting themselves from experiential learning. It has also allowed the Arena to foster a cross functional, multi-generational working environment, supplementing Paramedic staffing and resources, and creating a level of excitement around the nursing program as other staff and event guests are able to see first-hand the students work in practice.
Both the School of Nursing and ExtraMile Arena are excited to see the collaboration continue next Fall. Dr. Llewelyn noted this partnership has provided, "a more holistic view of community based events and the role our nursing students could play in them." According to Dr. Walters, this partnership has helped "foster the servant leadership mindset and integrate themselves into the Boise State community" which Deck agrees, adding, "building this relationship with a valued campus partner has been very important to our operations and our commitment to supporting student success and fostering a thriving community."