Oct 29, 2020
ExtraMile Arena housekeeping team going to extraordinary effort to protect students, faculty and staff.
Building cleanliness has always been a top priority at ExtraMile Arena. However, when the COVID-19 pandemic hit in March, sanitation and disinfection measures took on even greater importance. This extra focus resulted in a partnership with an industrial hygienist from the L&R Group, a Meridian, Idaho, based full-service environmental firm who partners with many of the largest energy and manufacturing companies in the Northwest.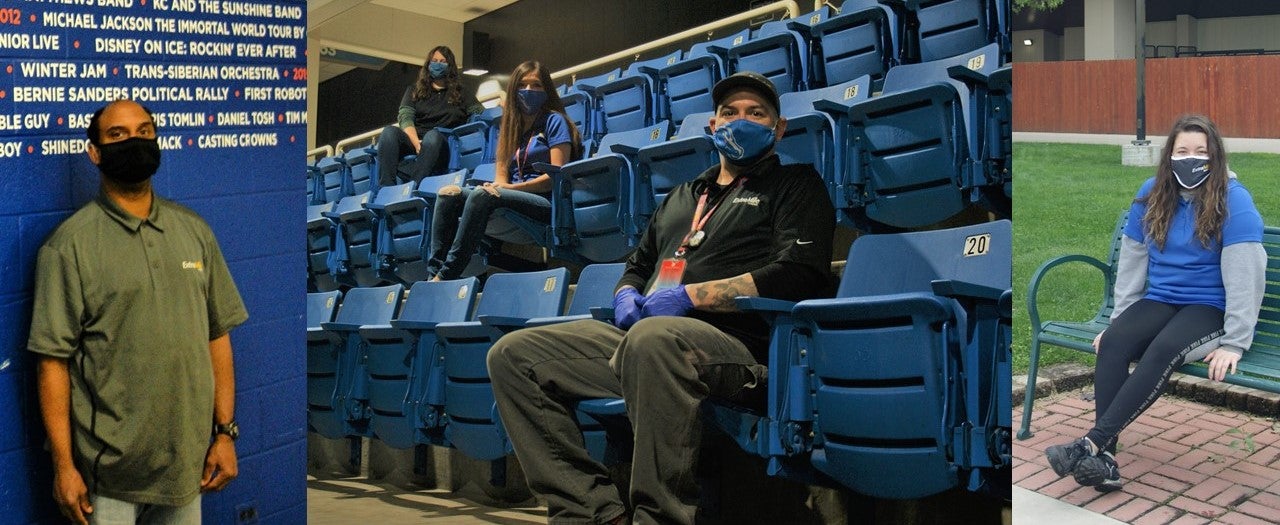 The L&R Group conducted a full site assessment of ExtraMile Arena, and together with ExtraMile Arena personnel, were able to identify industry best practices for sanitation protocols specific to usage and types of touchpoints for a multi-purpose venue. These standards resulted in baseline pass/fail scores for non-porous and semi-porous surfaces throughout the facility.
As part of these enhanced cleaning protocols, Katie Matthews, Assistant Director of Housekeeping, Sustainability and Energy Management and Jeffrey Silva, Custodial Foreman, implemented adenosine triphosphate (ATP) testing at ExtraMile Arena. Testing can detect the amount of ATP, an enzyme that is present in all living cells, that remains after cleaning a surface and determine if cleaning and disinfection are producing the desired results.
Enhanced cleaning and disinfection measures necessary to achieve consistent passing ATP scores include:
Daily sanitizing and disinfecting of high-traffic areas with EPA approved solutions, sprayers and microfiber cloths that minimize cross contamination
Visual inspection of all areas to look for residual chemicals, dirt or stains
Restorative disinfection of all facility touchpoints after guest departure
Testing results are collected, analyzed and tracked via the SureTrend software to gauge the success of disinfecting measures in place at ExtraMile Arena. With Arena testing results steadily well within the standard set for medical facilities, ATP testing will continue to be used as a training tool on disinfection and a confirmation of building cleanliness prior to each event.
Success in implementing industry best practices and meeting ATP testing goals is reliant on highly engaged and empowered staff. While student employees at ExtraMile Arena have long been trained in various aspects of venue management from audio/visual production, facility operations, safety and security, ticketing and marketing, this unprecedented period has shown a spotlight on the essential role of student staff in Arena housekeeping operations. Comprising 87% of the ExtraMile Arena housekeeping team, student employees learn valuable on-the-job skills in the areas of systematic processes, time management, attention to detail, customer service and problem solving. Mercedes Martinez and Maria Rodriguez, student employees since 2016, are pursuing degrees in biological sciences and elementary education. Maria stated, "The staff are all great and the environment is fun and caring." According to Mercedes, "This job always keeps me on my toes with new opportunities and having a new task to do." Like Jeremy, an Arena housekeeping student employee since 1996 who is working on his degree in sociology, students have been making a difference at ExtraMile Arena for decades.
Implementation of enhanced sanitation measures, ATP testing and use of student employees are only a few of the ways the Arena housekeeping team continue to find new opportunities to innovate. "We've completed multiple exposure control trainings, developed disinfecting schedules for equipment and work spaces, implemented protective distancing guidelines including staggered work shifts, and ensured all staff has access to personal protective equipment such as N95 face masks, face shields, safety glasses and protective gloves. As we continue to navigate these challenging times, every day we learn more about how we can most effectively and efficiently maintain the facility in order to keep Arena staff, stakeholders and guests safe," said Jeffrey Silva, Custodial Foreman of ExtraMile Arena.
"Safety and the health safety of our guests remain our top priorities" said Katie Matthews, Assistant Director of Housekeeping, Sustainability and Energy Management of ExtraMile Arena. "Our continued partnership with the L&R Group, identifying and implementing enhanced industry best practices for sanitation protocols and conducting ongoing ATP testing are effective ways to keep our building ready for activity and our community safe as we work toward our goal of continuous improvement."