Know Before You Go
Details to know before you arrive:
Important: Some details are subject to change for an event. Please refer to the email that was sent to your inbox, or the event page on our website for the most up-to-date, event-specific information.
Elevator Access:
Elevators are available in lobbies 1 and 2.

Wheelchair Spaces Available:
Wheelchair spaces are limited and reserved specifically for patrons with this need and are located on all three seating levels. Adjacent companion seating is available in these areas.
Wheelchair Transportation Assistance:
Guest Services staff wheelchair escorts are available at any entry point for transportation to and from seating areas. As it is important that Arena wheelchairs remain available to escort all guests that request this assistance, please work with staff if help in finding a seat for the duration of the event.
Food and beverage will be available for purchase.
Alcohol will also be available for purchase for those 21 years of age or older with an acceptable form of identification.
All guests consuming alcohol are required to wear a wristband that demonstrates they are 21 years of age and have confirmed their age by showing an acceptable form of identification.
There is a limit of two alcoholic beverages per purchase.
The Backyard outside lobby 4 hosts local food trucks and beverages.
Re-entry (entering, exiting, and entering again) is not permitted for commercial events.
Hearing Impairment Assistance
The Arena has an Assistive Listening System (ALS). At the entry, simply ask a Guest Services staff member for a receiver unit.
The Arena is not responsible for any items left inside or outside the facility. However, there are times when items left in the Arena are turned into our front desk. Call 208-426-1900 to check for a lost item.
In order to keep guests safe and reduce unnecessary touchpoints, the following items are prohibited.
Please note, some details are subject to change for events. Please refer to the email that was sent to your inbox, or the event page on our website for the most up-to-date, event-specific information.
Weapons of any kind or items that could be used as a weapon (Leatherman, knives, brass knuckles, metal chains, sharp metal objects, pepper sprays, bullets, etc.)
Firearms
Fireworks / Pyrotechnics of any kind
Laser pointers, glow sticks, or flashbulbs
iPads, Google Glass, Selfie-sticks, Laptops, Drones, Video/Audio Recorders
Outside food & beverage (cans, bottles, coolers, alcohol, etc.)
Artificial noise-makers (such as air horns, cowbells, etc.)
Wrapped packages
Objects that can be used as projectiles
Unapproved pamphlets, handouts, signs, banners, etc.
Animals (Exception: recognized service animals under titles II and III of the ADA)
Unauthorized chemicals
Beach Balls, Skateboards, roller blades, roller shoes
Any and all items/controlled substances that are illegal at the city, county, State, and/or Federal level or deemed suspicious due to quantity or uniqueness
Any other item deemed by security to be inappropriate for the event or a threat to public safety
*These items will not be checked or allowed into the building so please leave them home or in your car.
Security Screening Policy
Scanning & Security Checkpoints:
For your safety, all guests entering the Arena are subject to a metal-detector screening, visual inspection, and bag inspection conducted by Arena security personnel. Refusal to agree to the search may result in non-admittance. Prohibited items include anything that can be deemed a threat to public safety regardless of permit. In the event that prohibited items are revealed during a search, guests may either return the item to their vehicle or the item will be surrendered. Surrendered items will be disposed of and not returned.

Ticket Scanning:
In addition to staff that is available to scan tickets, the Arena is excited to introduce new self-serve ticket scanners! Come prepared with your tickets in your smartphone wallet. Staff is happy to assist or you can tap/scan your own tickets.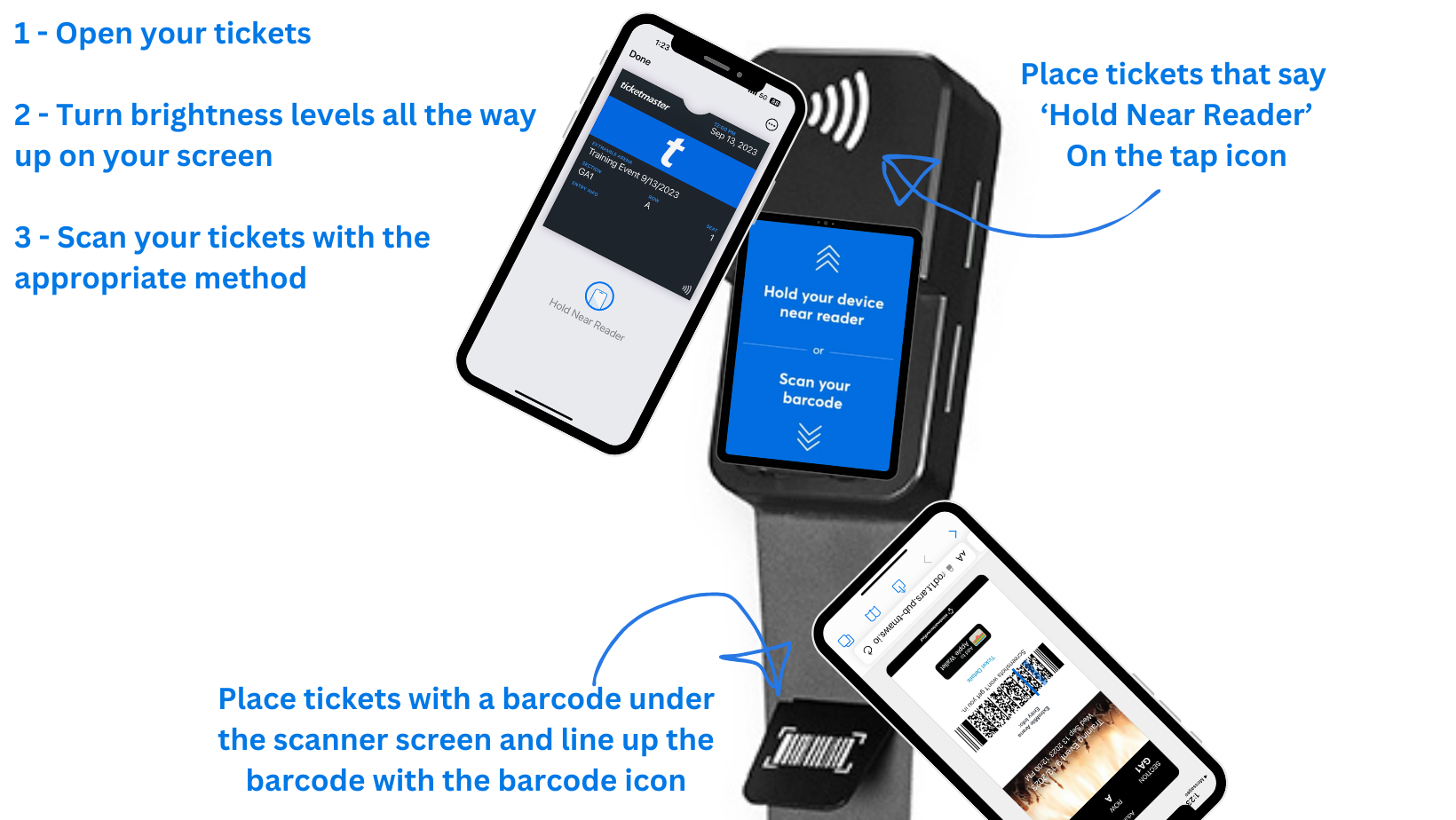 Smoking and vaping are permitted in designated areas only.
With mobile ticket delivery, your phone is your ticket.
Use the following steps to access the information on your phone before getting to the Arena to ensure you are prepared to present your tickets at the entry.
Download the Ticketmaster app and sign in.
Tap "My Events" to locate your order and view your tickets.
To get in, you'll simply scan your ticket right from your phone.
Mobile Ticket Tips:
Your barcode includes technology to protect it so screenshots will NOT be accepted at entry.
View your tickets before you go so they are loaded into the TM App, a timesaver if cell service is slow on the day of the event.
*** Save time by downloading tickets to your Apple Wallet or Google Pay digital wallet. ***
Additional Information about Arena Policies and Procedures
Additional Information about Arena Policies and Procedures:
For more information about the Arena, please visit https://www.extramilearena.com/plan-your-visit/a-z-guide. If you have questions regarding any of this information, please contact the Arena at 208-426-1900 or extramilearena@boisestate.edu.
Assumption of Risk:
Event organizers do not assume liability. By entering the Arena, you agree to adhere to all Boise State University policies (to include COVID policies) and assume full liability and risk incurred before, during, and after the event.
Boise State COVID Protocols & Health Guidelines:
If you are sick, living with someone who is sick or experiencing the following symptoms, do not enter the Arena.
Fever or chills
Cough
Shortness of breath or difficulty breathing
Fatigue
Muscle or body aches
Headache
New loss of taste or smell
Sore throat
Congestion or runny nose
Nausea or vomiting
Diarrhea
Masks are optional in all university-owned or controlled spaces.
Prohibited Area Policy
Attempting to access controlled areas of the Arena including, but not limited to, areas beyond barricades, backstage areas, and secured vehicle complexes is strictly forbidden and could result in ejection from the venue.
Have questions?
Reach out to our team for any questions related to your upcoming event!
General Inquiries:
Phone: (208) 426-1900
Email: extramilearenarecept@boisestate.edu
Ticket Related Inquiries:
Phone: (208) 426-1766
Email: extramilearenatickets@boisestate.edu